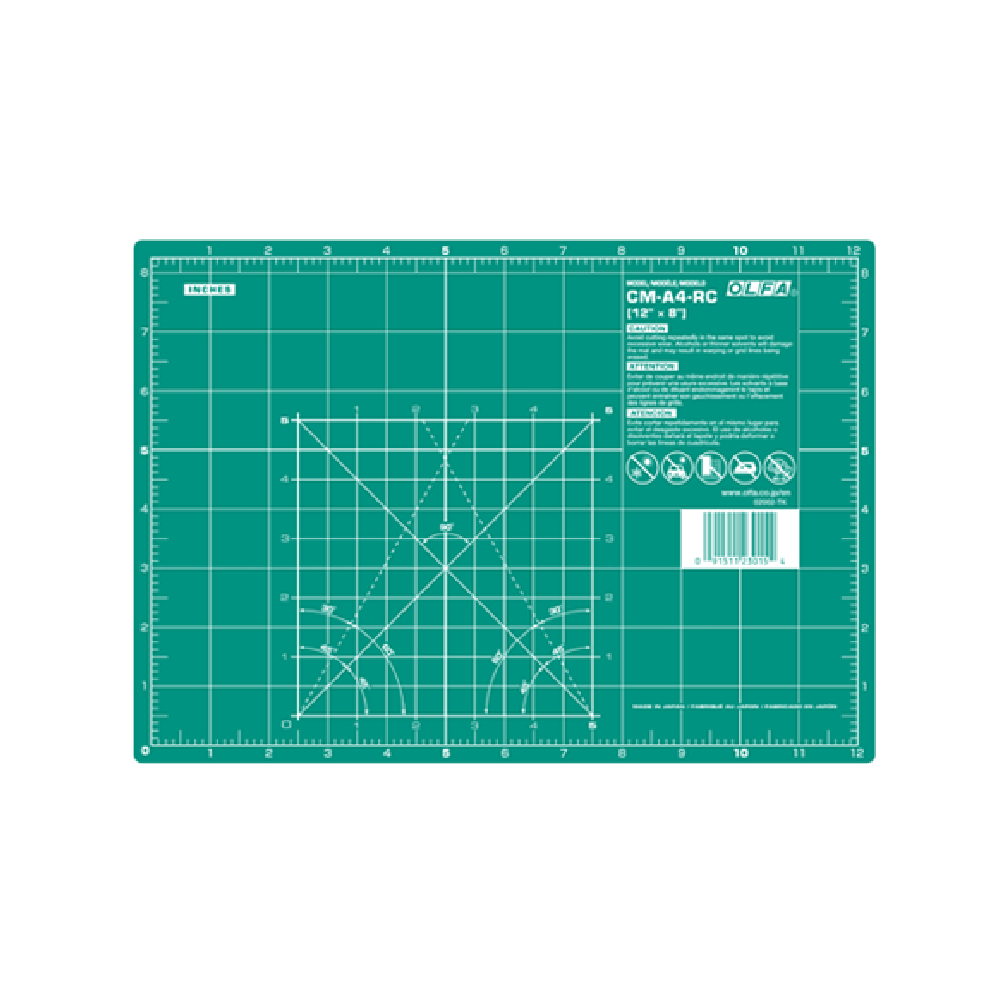 Self healing cutting mat - Olfa - 1,6 mm, 47 x 32 cm
Check availability in our stores
Choose store:
Warszawa Varso

Chmielna 73

Warszawa

Plac Konesera 10A

Kraków

Pawia 34

Gdańsk

Rajska 10

Poznań

Plac Wolności 8

Wrocław

Krupnicza 6/8

Katowice

Krzywa 12
Podana ilość produktów jest jedynie poglądowa.
Underlay mat for circular knife cutting in size 470 x 320 mm.
The 1.6 mm thick mats of the RM-IC series have been designed as a backing for cutting with circular knives. Cutting with these knives does not require great force, hence the RM series mats are thinner than other mats. The mats are double sided - one side is graduated in centimeters and the other in inches. RM-IC mats can also be used for low force cutting with 9mm segmented blades and scalpel type knives. They provide an economical solution for hobbyists and amateurs.
Due to EU restrictions on the marketing of products containing phthalates - used as plasticisers in polymer and rubber materials - OLFA has introduced some technological changes in the production process of cutting mats. The material from which OLFA mats are made contains the phthalate DEHP, which is specified in EU directives. Although the phthalate content in the mats is much lower than permitted by the standards, OLFA has decided to replace the mats in the EU market made of a polymer of the existing chemical composition with mats made of a polymer plasticized with additives according to the REACH directive, without the phthalate DEHP.
Caution:
Mats should be stored lying flat - they cannot be bent or rolled. Protect the mats from heat - do not iron on them. Also do not leave them in direct sunlight. Also do not use MC-45 and MC-45/DX cutting mats.

THICKNESS: 1,6 mm
DIMENSIONS: 47 x 32 cm
MODEL: RM-IC-C-RC
PACKAGE: 1 pc.
COMPANY: Olfa
REFERENCE: OLF-RM-IC-C-RC