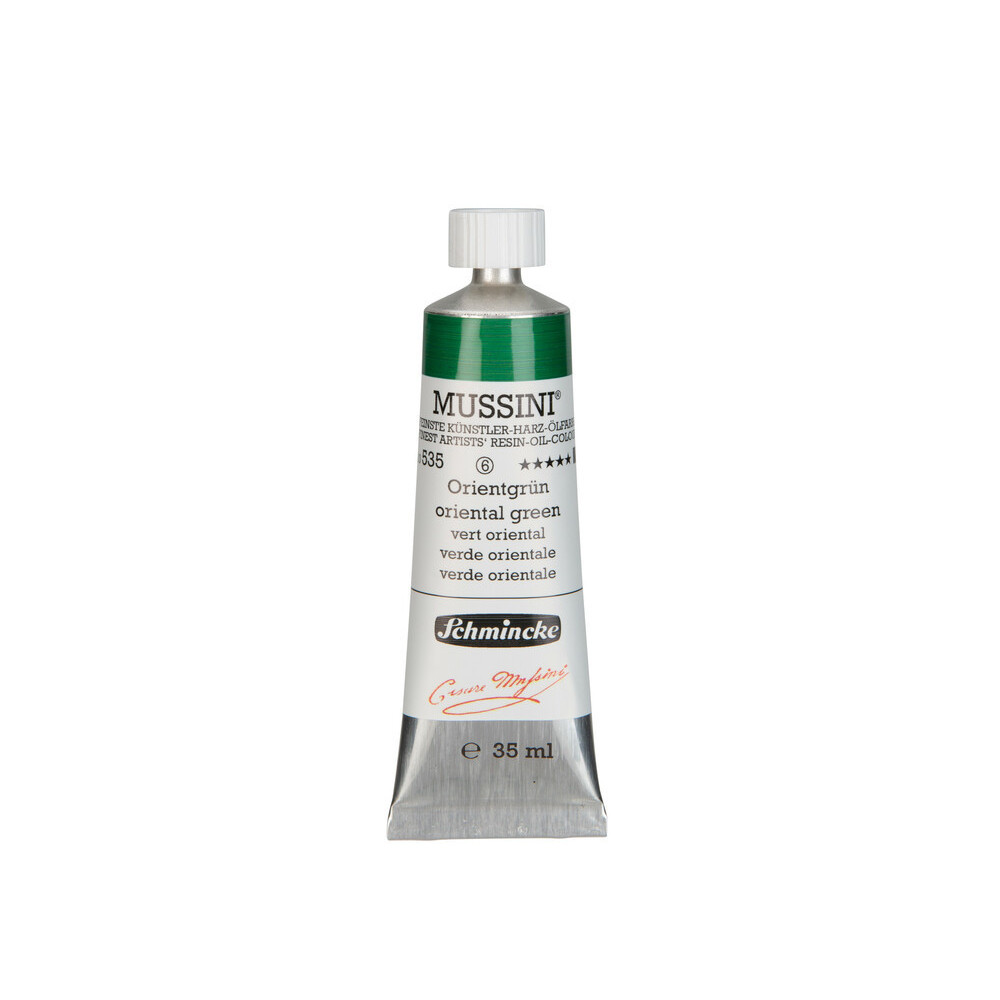 Mussini resin-oil paints - Schmincke - 535, Oriental Green, 35 ml
Check availability in our stores
Choose store:
Warszawa Varso

Chmielna 73

Warszawa

Plac Konesera 10A

Kraków

Pawia 34

Gdańsk

Rajska 10

Poznań

Plac Wolności 8

Wrocław

Krupnicza 6/8

Katowice

Krzywa 12
Podana ilość produktów jest jedynie poglądowa.
With the historical founding product of the Schmincke company from 1881, oil painters receive a unique resin-oil color based on recipes of old masters. These recipes are based on the rich experience of Professor Cesare Mussini, who at that time worked at the Academy of Fine Arts in Florence.
Countless masterpieces attest to the advantages of Schmincke MUSSINI® oil paints: high luminosity and the highest possible lightfastness. The special light refractive properties of the resin components make MUSSINI® unique among professional oil paints. The range of 108 beautiful, noble colors will delight the most distinguished connoisseurs of painting.
Based on many years of scientific experience, Schmincke combines various painting oils such as linseed oil, safflower oil and walnut oil with dissolved natural dammar resin. The amount of dissolved resin added depends on the oil requirements of the pigment in question, so that each color has its own individual recipe. Thanks to the appropriately balanced recipe, all MUSSINI® paints can be perfectly mixed with each other without the need for additional painting media. We can also combine them with oil paints of other brands with non-resinous composition!
In addition, by using noble glazing pigments, Schmincke has created a wide range of transparent colors dedicated to the glazing technique. The 44 glazing colors, including such well-known colors as Florentine Red and Transparent Oriental Blue, are characterized by the highest brilliance and luminosity and a unique depth of light effect.
MUSSINI® oil paints also ensure a perfectly balanced and stress-free drying process.
Download color chart - click.
Download the brochure of MUSSINI® - click.
COLOR: Oriental Green 535
TRANSPARENCY: opaque
LIGHTFASTNESS: excellent
DRYING TIME: 6-18 days
PRICE GROUP: 6
CAPACITY: 35 ml
PACKAGE: 1 pc.
COMPANY: Schmincke
REFERENCE: SCH-10535009