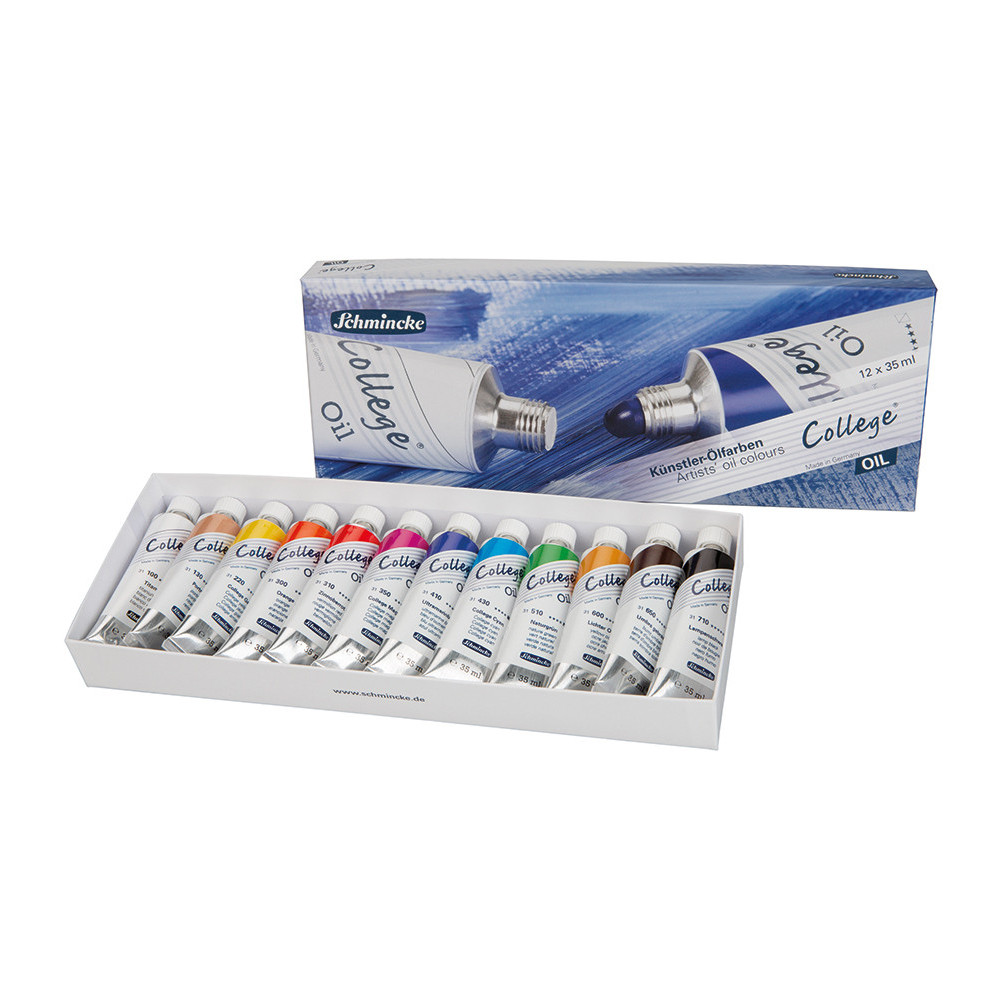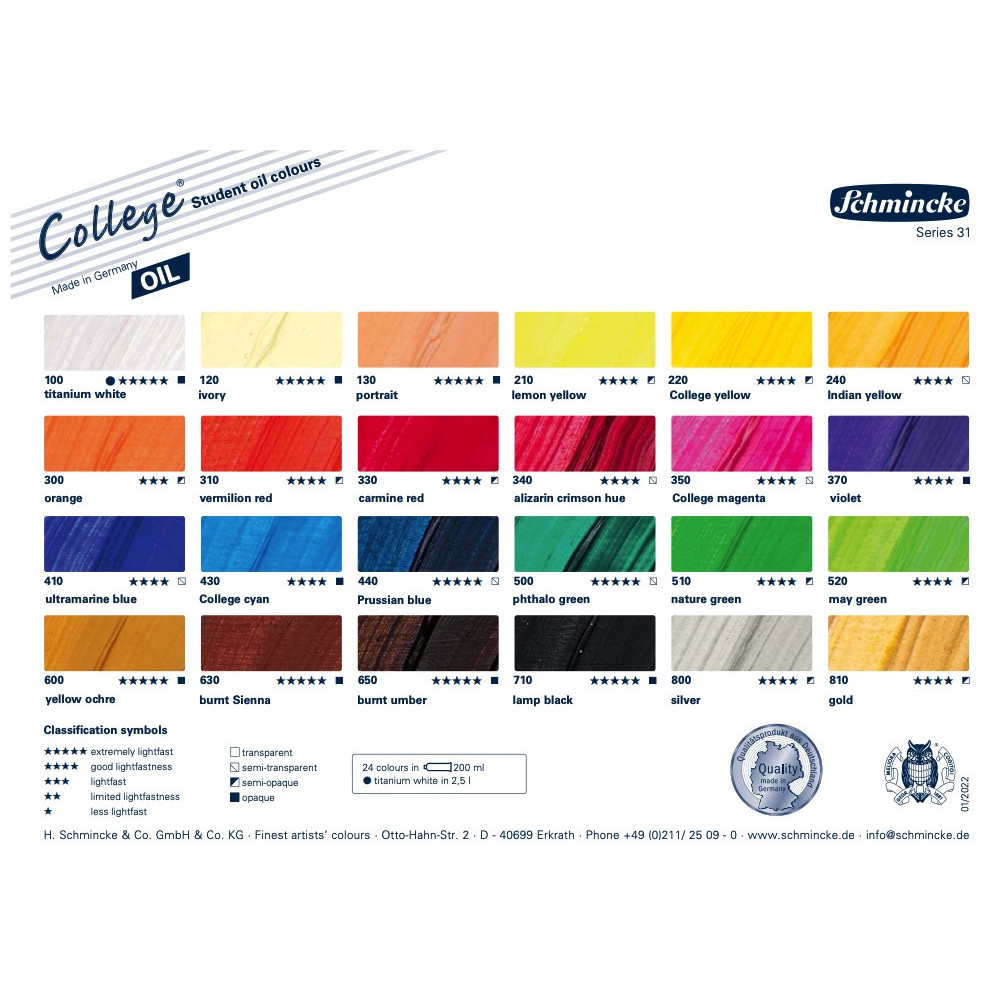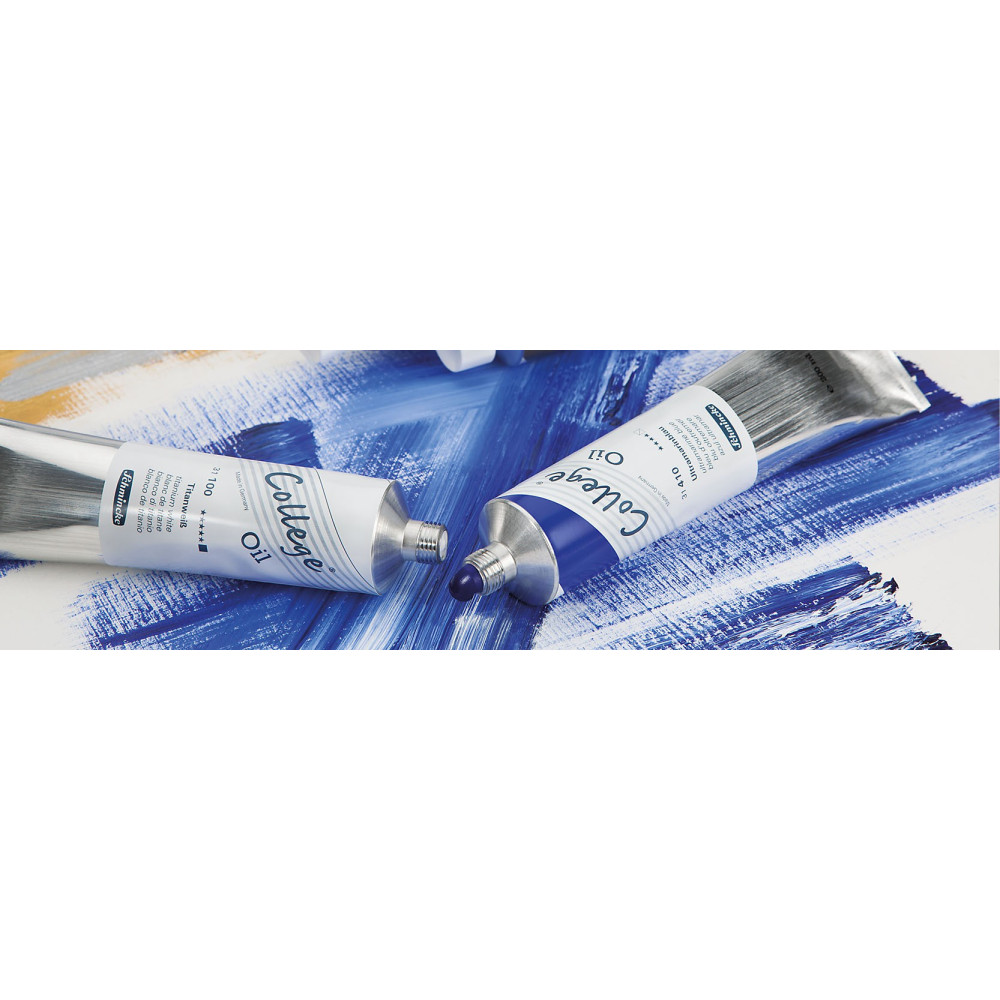 Set of College oil paints - Schmincke - 12 x 35 ml
Check availability in our stores
Choose store:
Warszawa Varso

Chmielna 73

Warszawa

Plac Konesera 10A

Kraków

Pawia 34

Gdańsk

Rajska 10

Poznań

Plac Wolności 8

Wrocław

Krupnicza 6/8

Katowice

Krzywa 12
Podana ilość produktów jest jedynie poglądowa.
Schmincke's College® Oil paints cater not only to ambitious beginners, but also to discerning fine artists.
They contain proven art pigments and natural vegetable oils. They offer good lightfastness (almost exclusively 4 and 5 stars). The color range includes 18 translucent/opaque and 6 translucent/transparent colors including gold and silver.
College® Oil paints combine all the qualities expected of a college oil paint. With good mixability and fast, even drying, they are very easy to apply. The smooth, "buttery" consistency makes the paints ideal for working with, and brush and spatula strokes remain visible. Using the three primary colors College® Yellow, College® Magenta and College® Cyan, it's easy to learn how to mix colors to create countless other colors to complement the palette.
College® Oil paints can be mixed and combined with all other Schmincke oil paints (MUSSINI®, Norma® Professional, AKADEMIE® Oil color), as well as with all Schmincke oil painting media.
The following are suitable as painting surfaces for acrylic paints: sub-paintings, painter's boards, acrylic paper, wood and other clean, degreased surfaces.
Download the College® Oil paint brochure - click.
COLORS: 100 Titanium white, 130 Portrait, 220 College Yellow, 300 Orange, 310 Vermilion Red, 350 College Magenta, 410 Ultramarine Blue, 430 College Cyan, 510 Natural Green, 600 Lights Ochre, 650 Burn Umber, 710 Lamp Black.
CAPACITY: 12 x 35 ml
PACKAGE: 12 paints.
COMPANY: Schmincke
REFERENCE: SCH-85002097