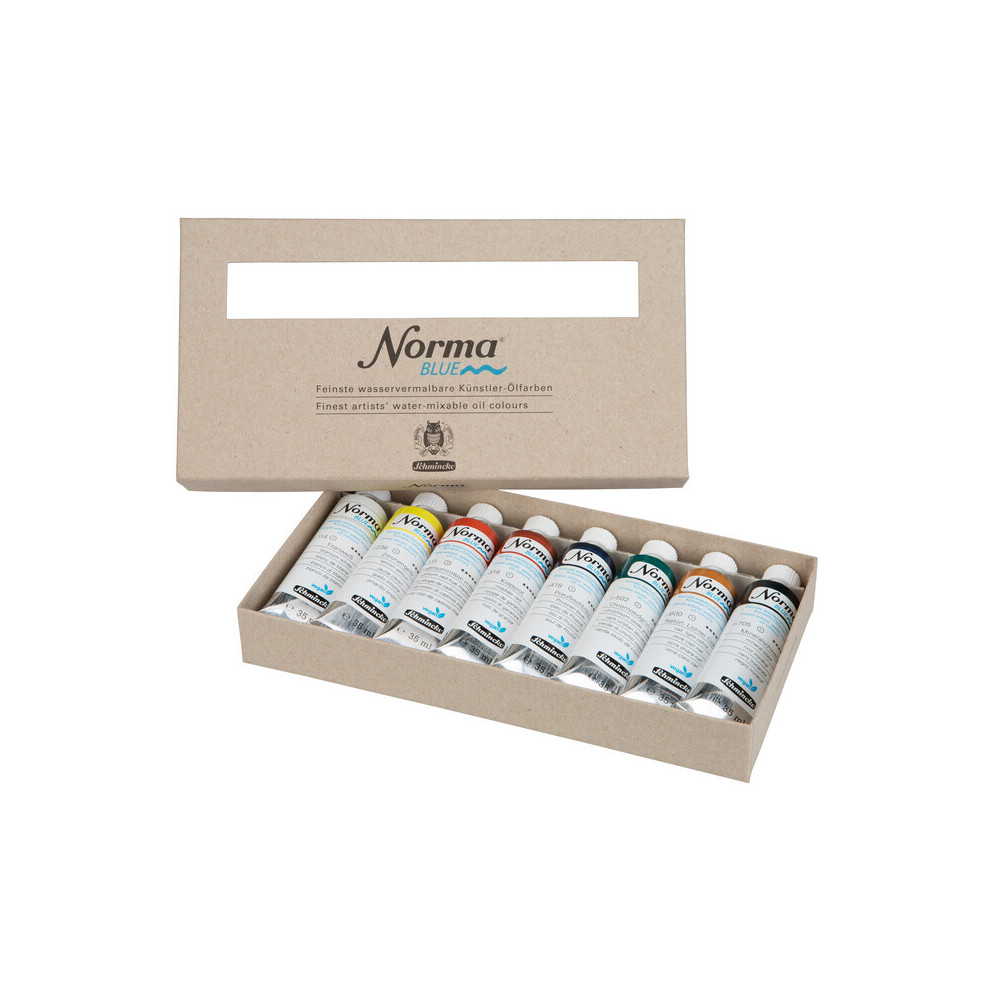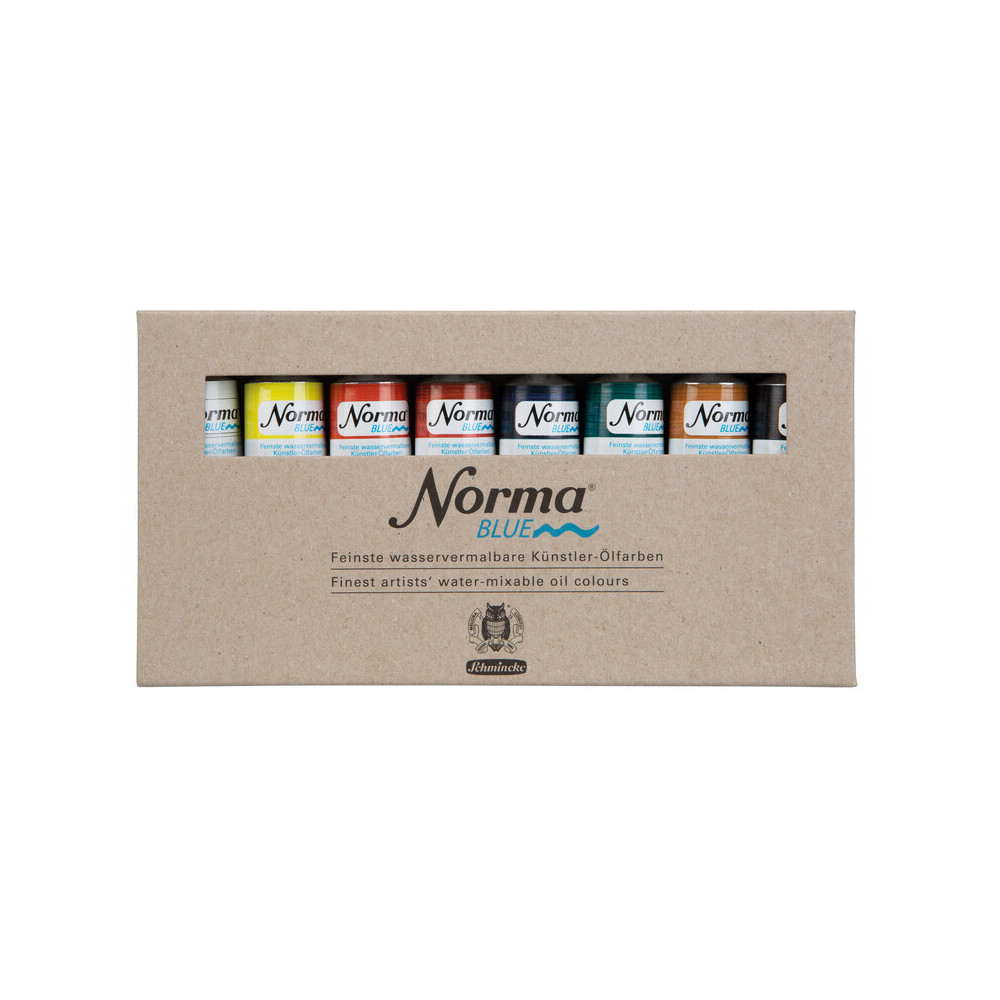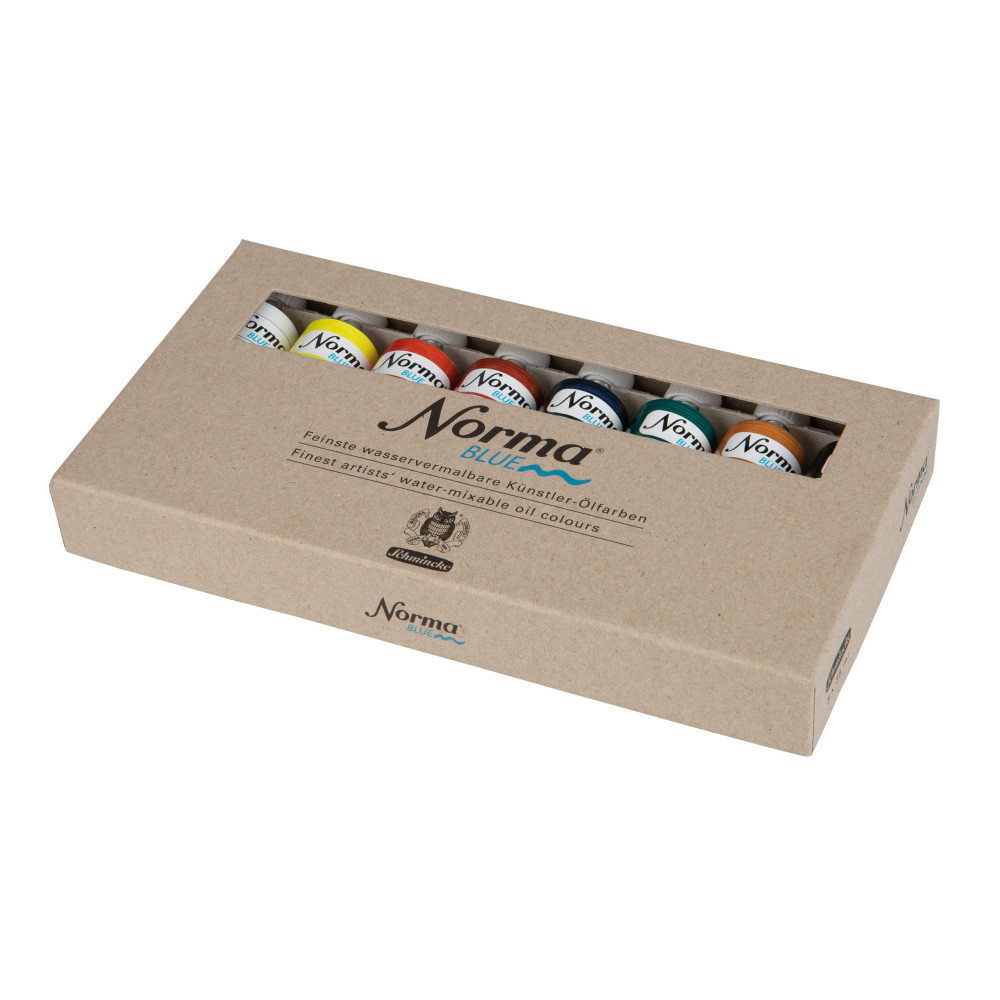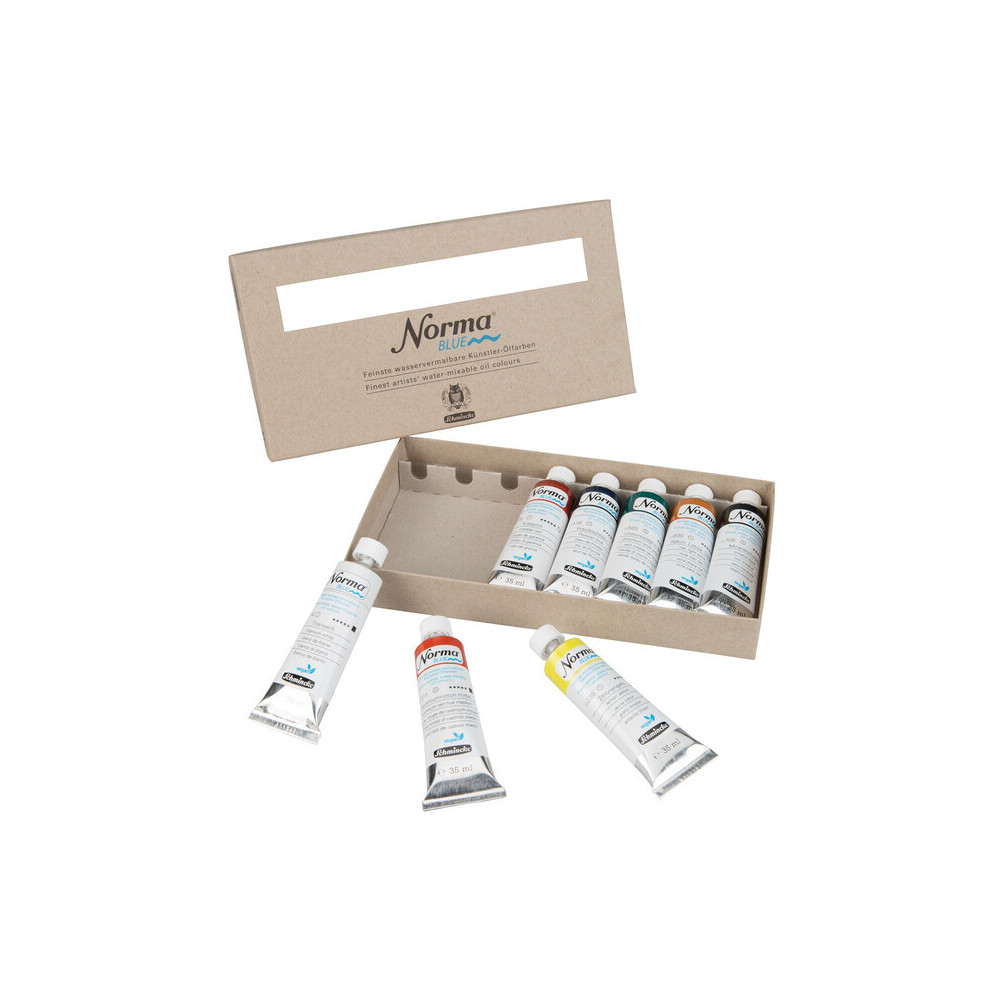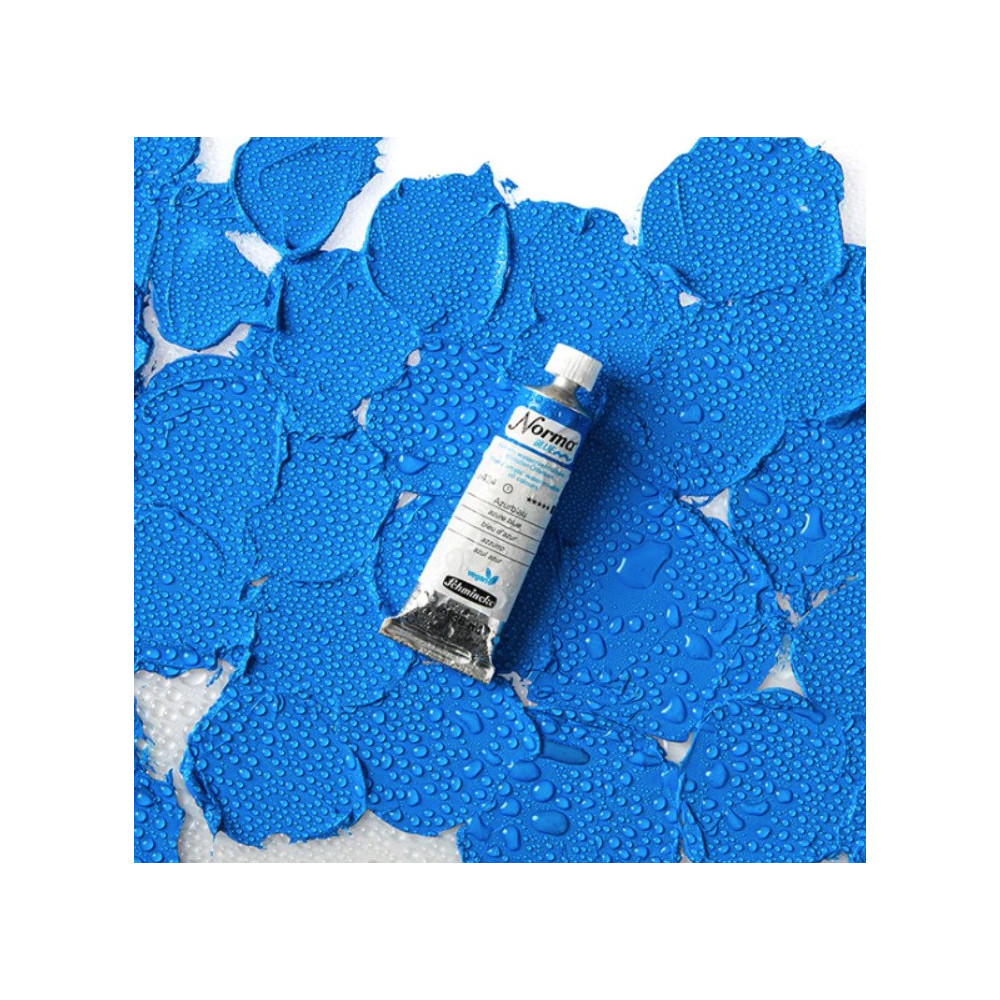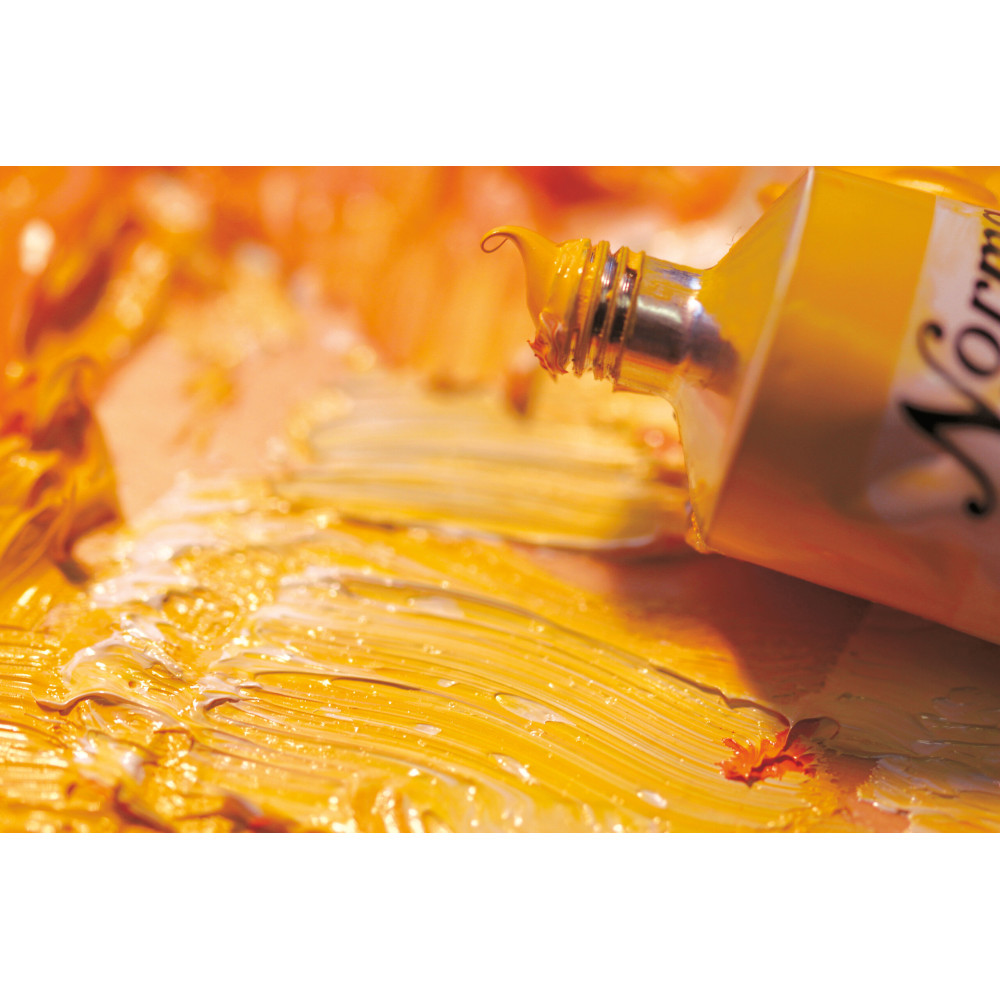 Set of Norma Blue water-mixable oil paints - Schmincke - 8 x 35 ml
Check availability in our stores
Choose store:
Warszawa Varso

Chmielna 73

Warszawa

Plac Konesera 10A

Kraków

Pawia 34

Gdańsk

Rajska 10

Poznań

Plac Wolności 8

Wrocław

Krupnicza 6/8

Katowice

Krzywa 12
Podana ilość produktów jest jedynie poglądowa.
Norma® Blue by Schmincke is the highest quality water-soluble oil paints for artists.
They contain no preservatives, so they are allergy-friendly. They are also completely vegan and environmentally safe. The formula is based on vegetable oils, without the use of cobalt, cadmium and zinc oxide pigments. Norma paints allow almost odorless painting. Because you don't have to use solvents, it's ideal for indoor painting and teaching purposes.
The balanced color range consists of 48 brilliant traditional and modern colors, including several unique special colors and gold. The colors have been developed in accordance with the proven quality and colors of Norma Professional. All colors have maximum lightfastness (4-5 stars).
The eco-friendly formulation includes the use of many natural, sustainable raw materials. High-quality, pure combinations of vegetable oils ensure good adhesion of the paint to the substrate, optimal pigment absorption and reduced tendency to yellowing. The best classic and latest pigments used in the highest concentration guarantee maximum spreading speed, and exceptional luminosity and brilliance of all colors.
All colors have a balanced, creamy-buttery consistency, thus providing the best painting characteristics and optimal brush and spatula marks. In addition, optimization of the formulation results in even and shorter drying, which guarantees a shinier and highly durable surface.
Norma® Blue oil paints have the ability to be mixed and blended with Schmincke oil paints (MUSSINI®, AKADEMIE® Oil color and College® Oil). With a mixing ratio of 4:1, the miscibility of Norma Blue with water will be maintained. There are five special media that make painting with Norma® Blue oil paints even more enjoyable. They have a drying time accelerating or retarding effect, increase gloss and glaze, and are suitable as a thinner. The paints can also be used with classic oil painting media, but then they lose their water-soluble properties.
The following are suitable as painting surfaces for acrylic paints: sub-paintings, painter's boards, acrylic paper, wood and other clean, degreased surfaces. Brushes, spatulas and painting palettes can be cleaned with water and a little soap.
Features:
- mixable with water and low-odor;
- preservative-free and completely vegan;
- allergy-friendly and environmentally friendly;
- brushes and tools can be cleaned with soap and water;
- 48 colors, including special transparent colors and gold;
- high pigmentation and high lightfastness (4-5 stars);
- consistency of buttery paste with characteristic brush marks.
Download the color chart - click.
Download the Norma® Blue paint brochure - click.
COLORS: Titanium White 114, Lemon Yellow 236, Cadmium Red Hue Medium 311, Madder Red 318, Prussian Blue 418, Chromium Oxide Green Brilliant 502, Raw Light Ochre 600, Mineral Black 705.
CAPACITY: 8 x 35 ml
PACKAGE: 8 pcs.
COMPANY: Schmincke
REFERENCE: SCH-71200097