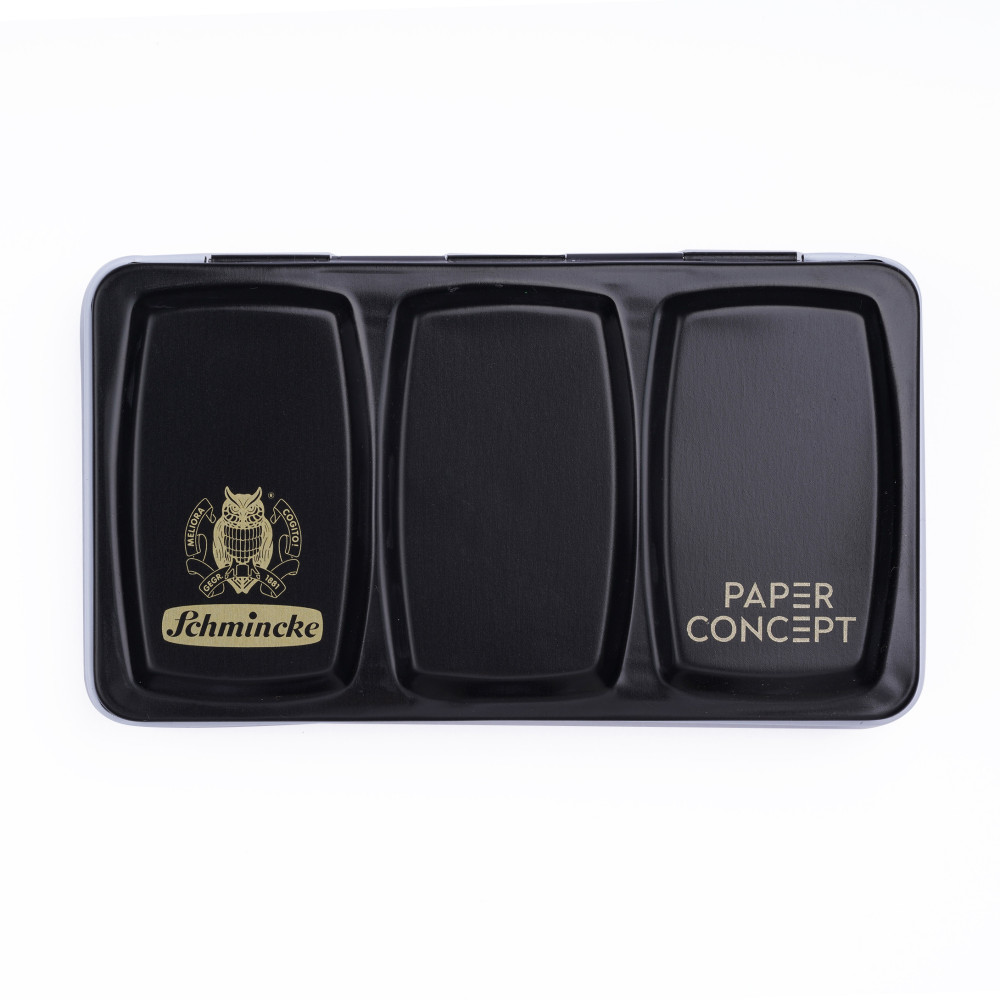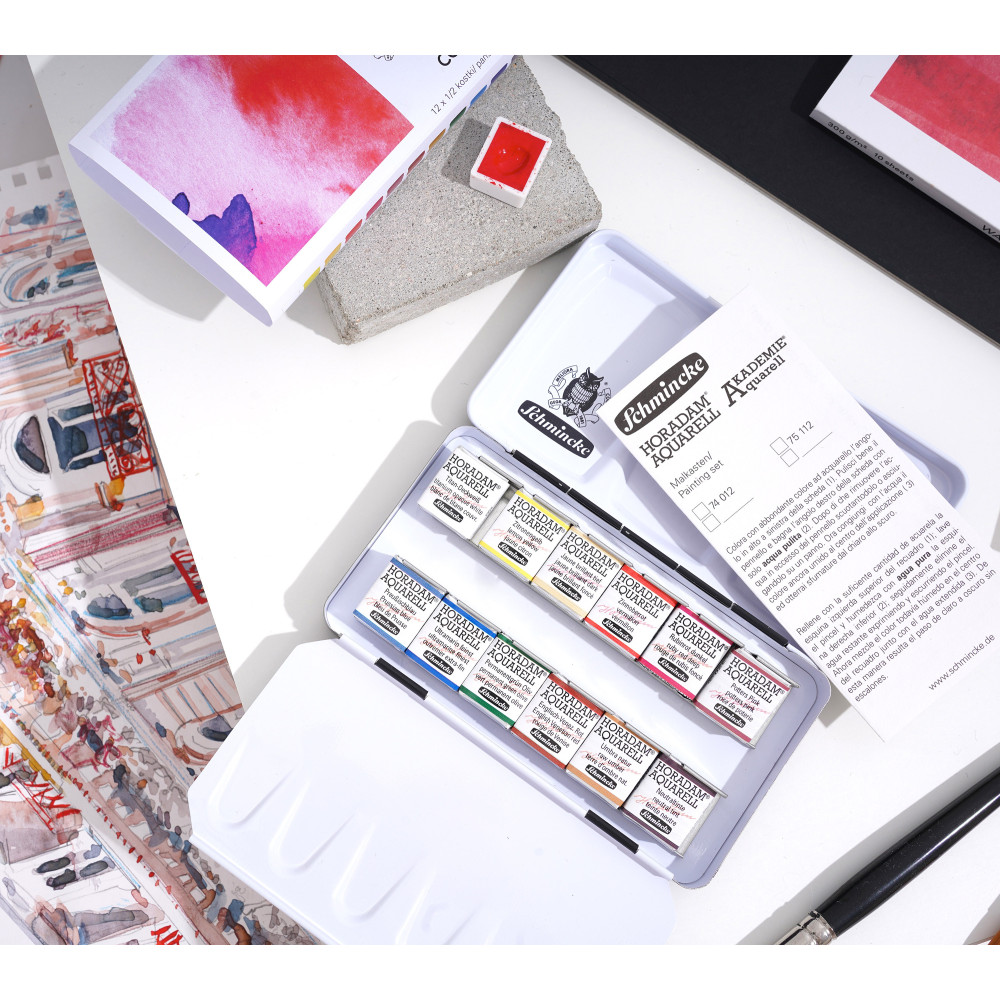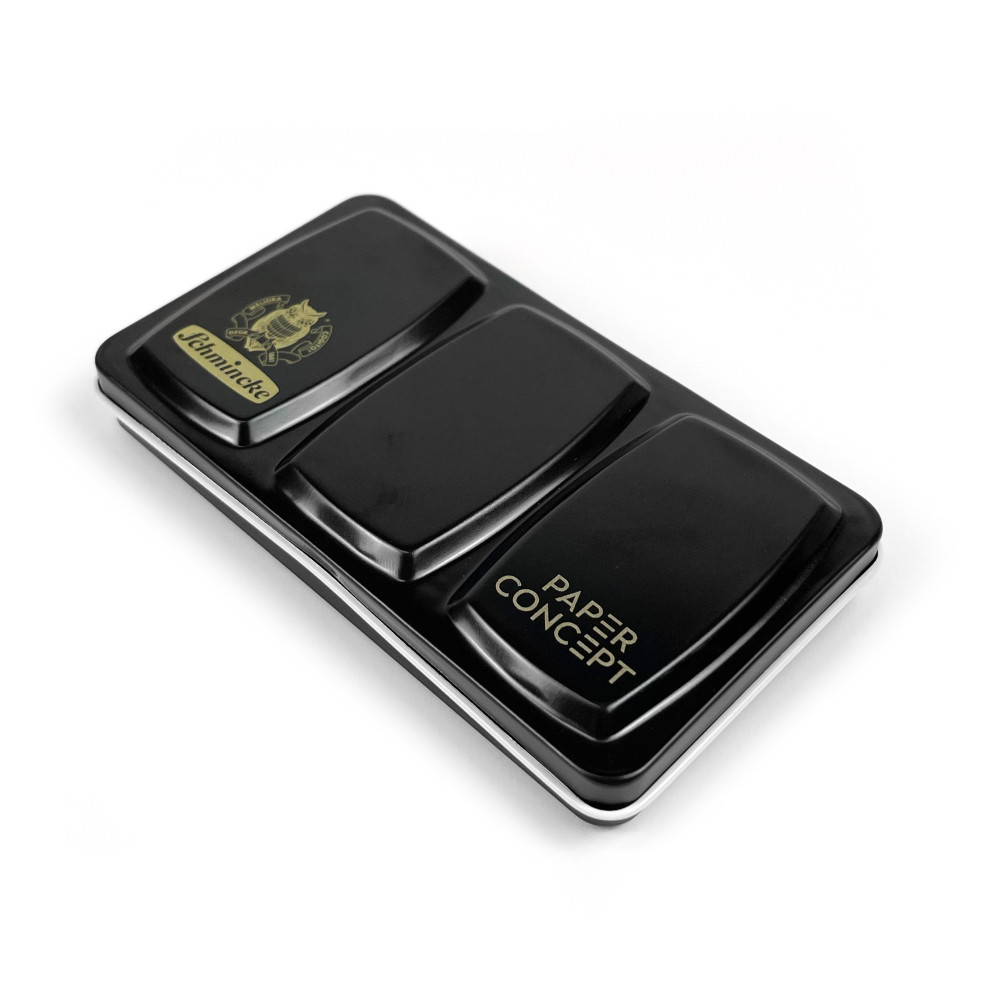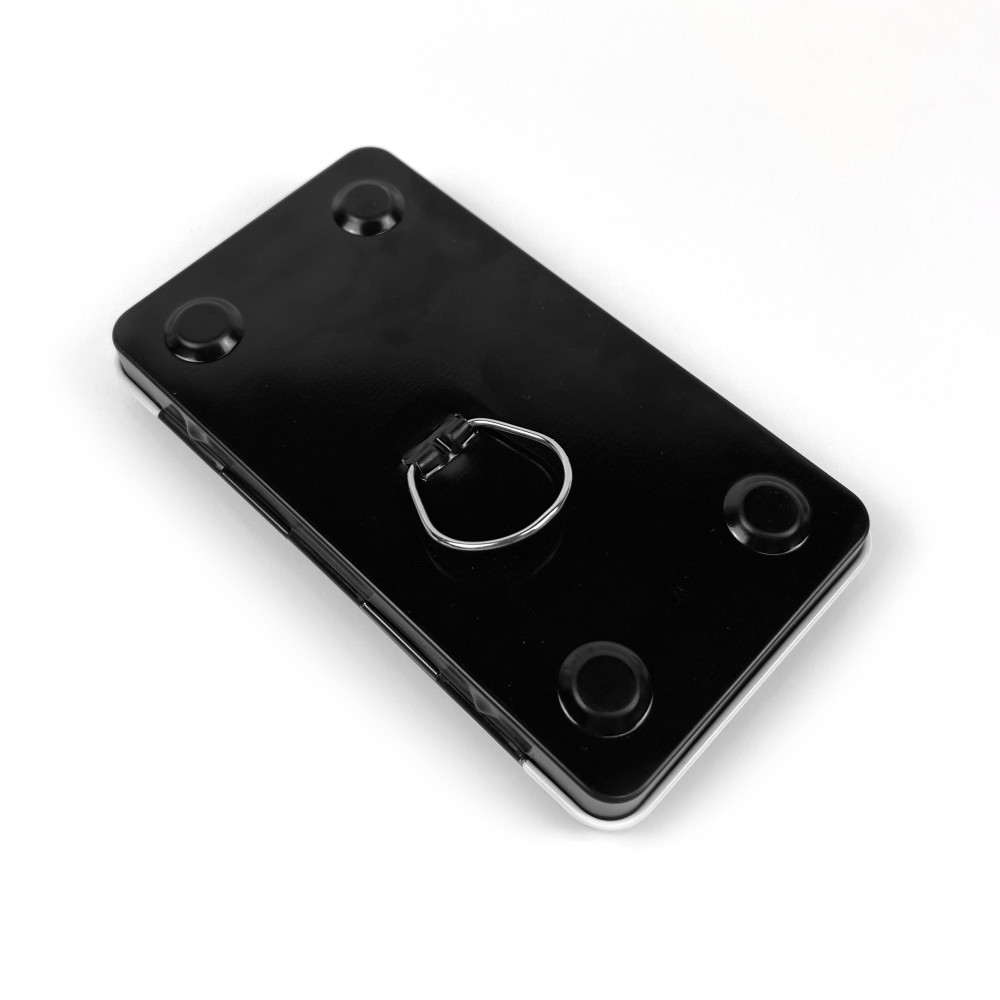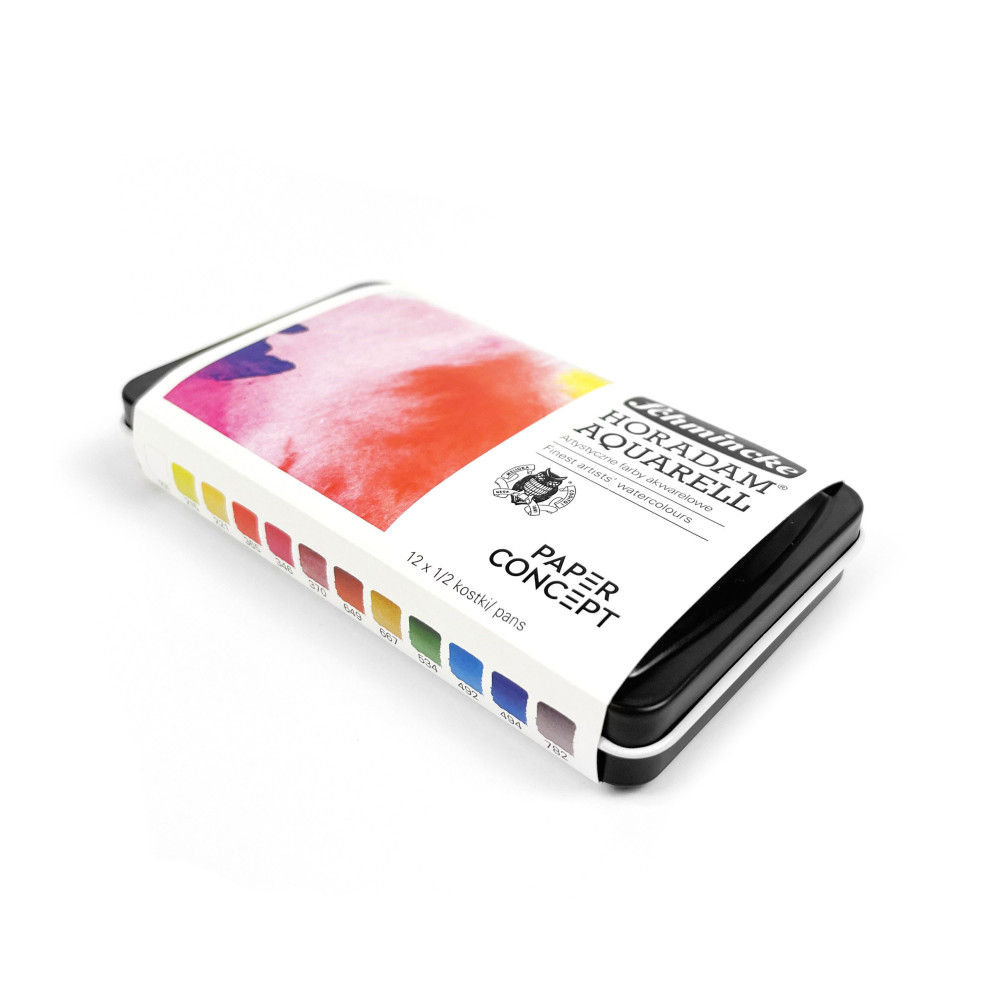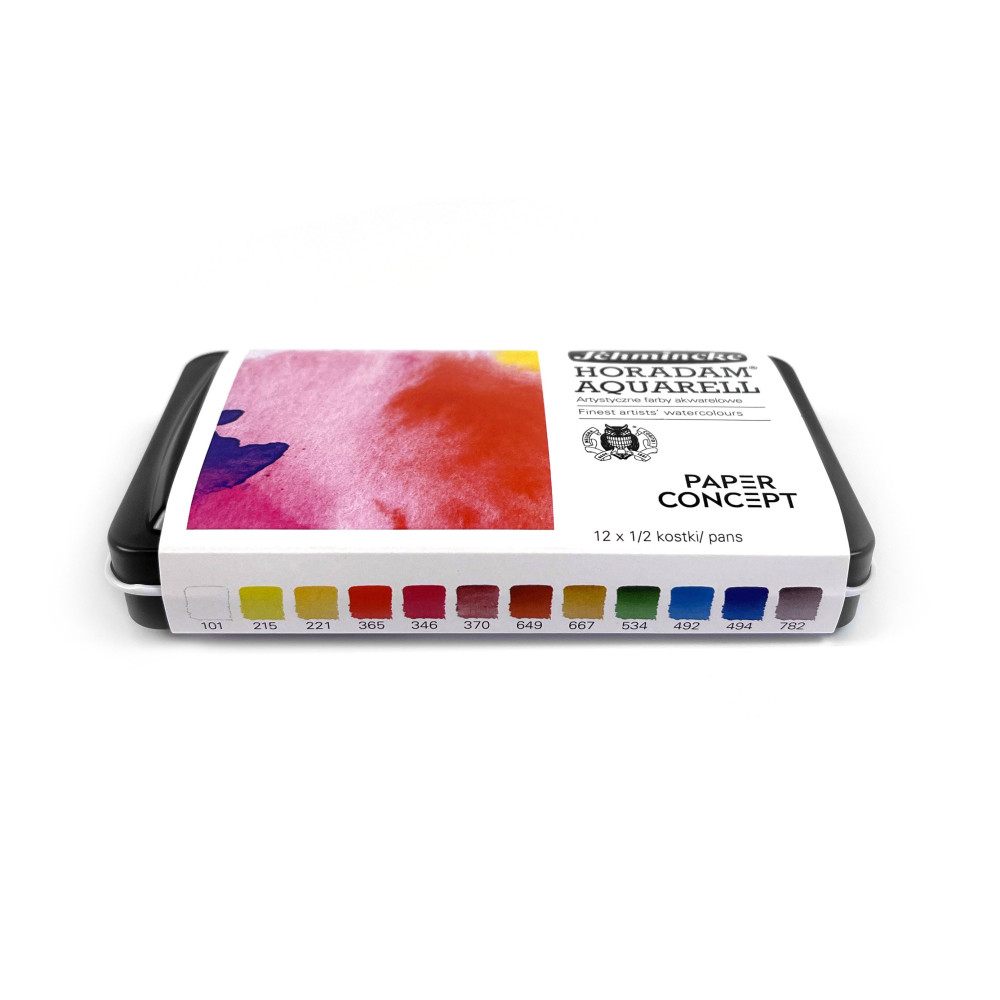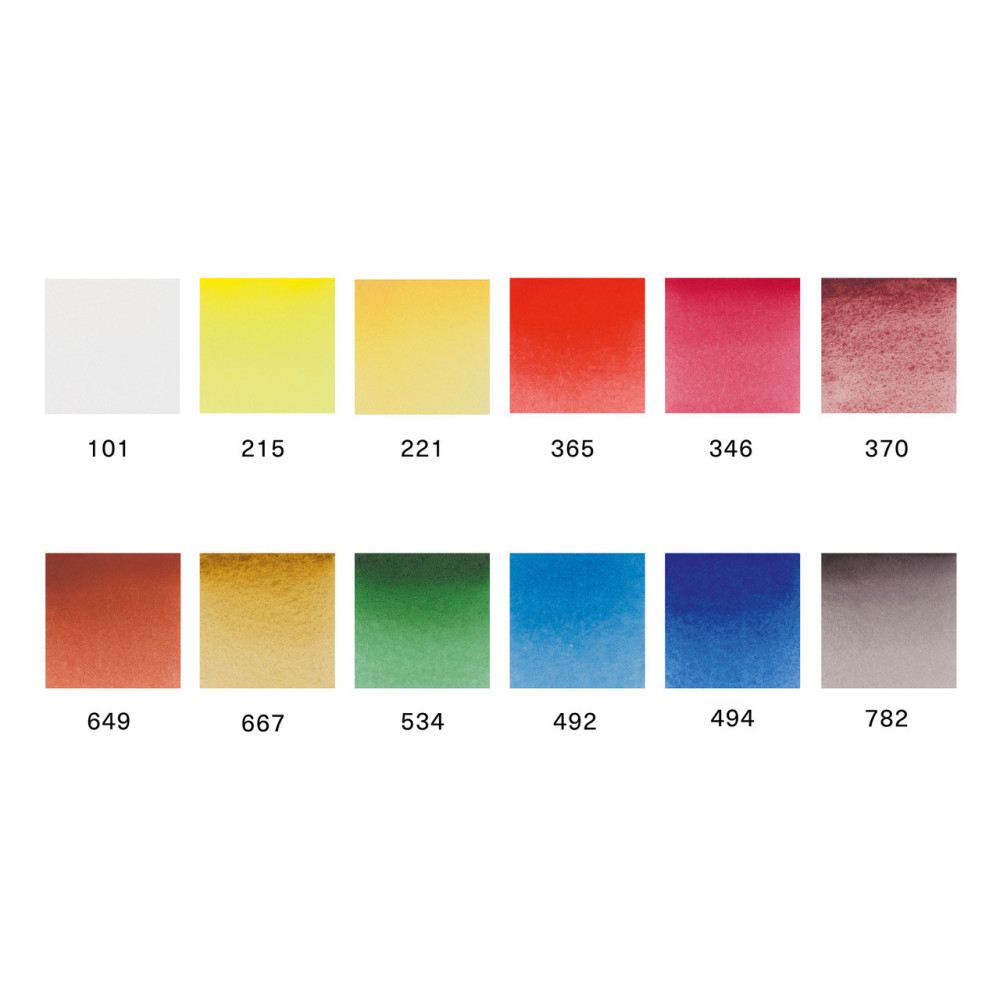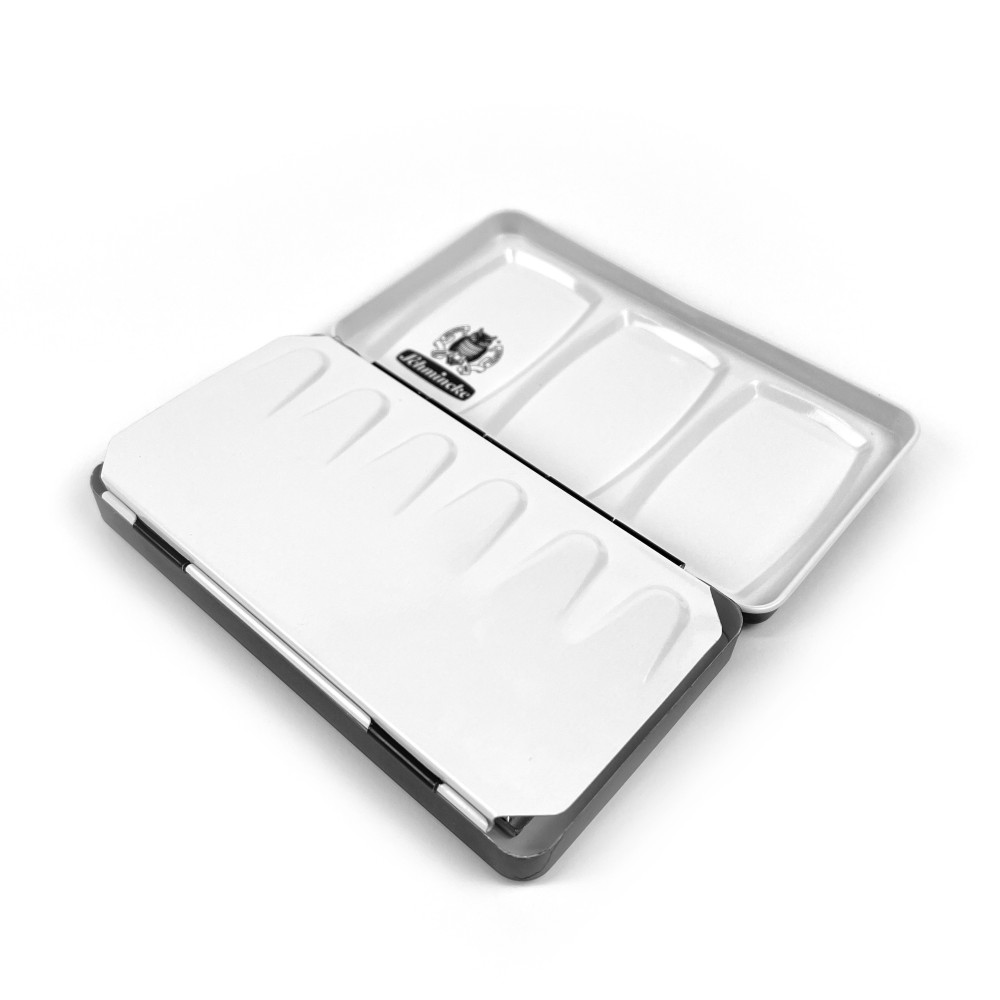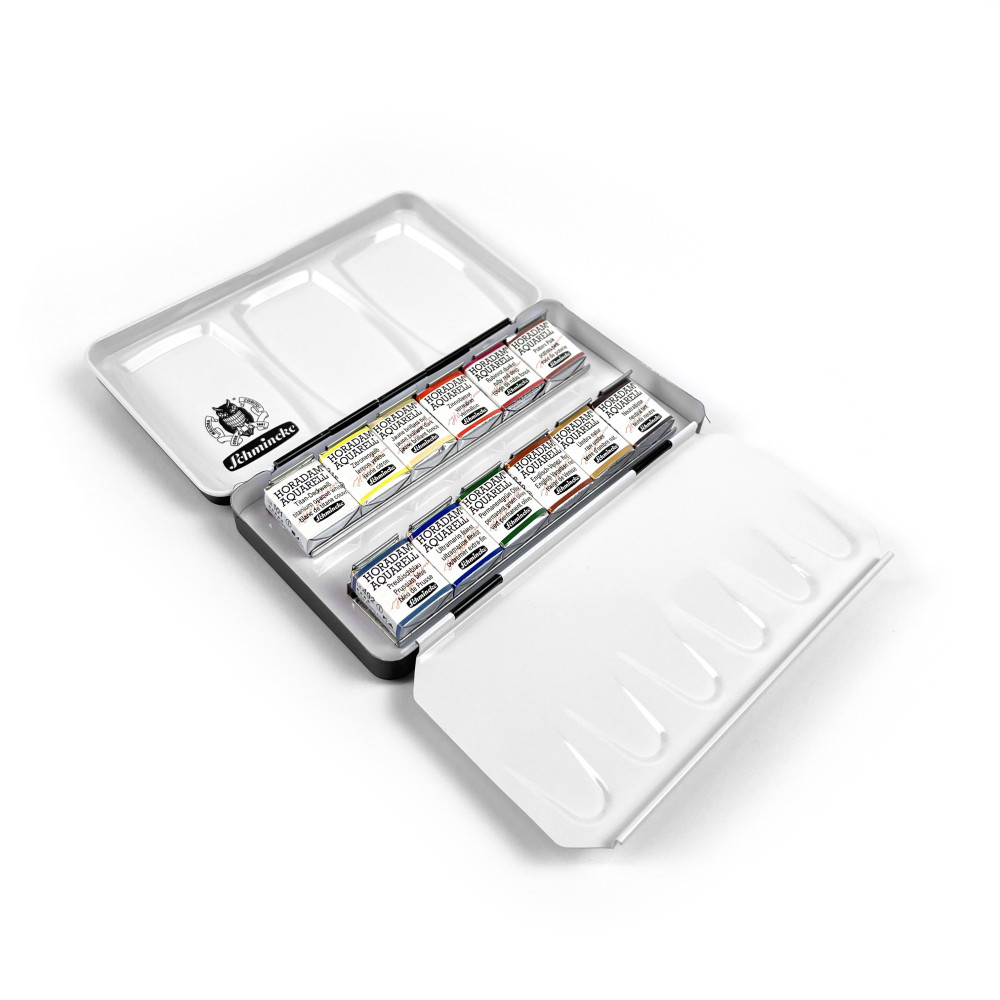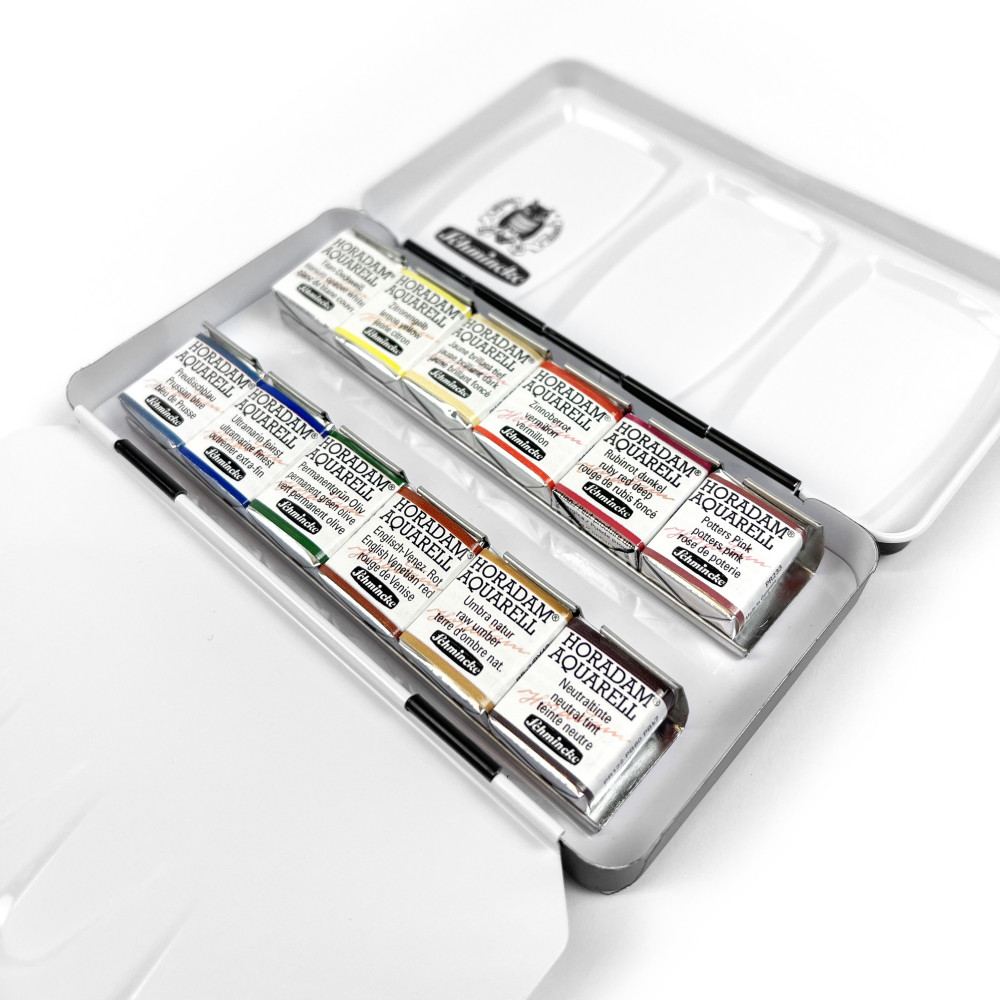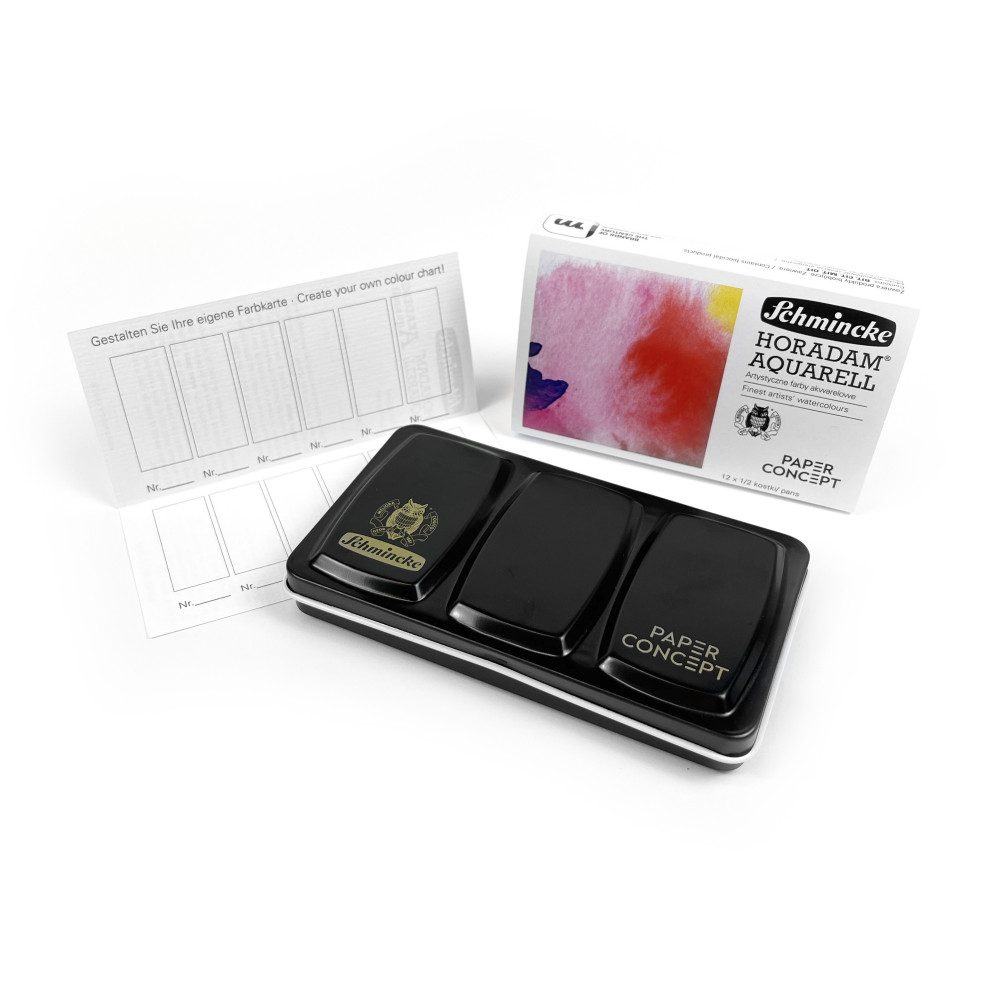 Set of Horadam Aquarell watercolor paints - Schmincke x PaperConcept - 12 pcs.
Check availability in our stores
Choose store:
Warszawa Varso

Chmielna 73

Warszawa

Plac Konesera 10A

Kraków

Pawia 34

Gdańsk

Rajska 10

Poznań

Plac Wolności 8

Wrocław

Krupnicza 6/8

Katowice

Krzywa 12
Podana ilość produktów jest jedynie poglądowa.
A set of watercolor paints in Horadam Aquarell halfpans by Schmincke x PaperConcept. The paints were placed in an elegant metal case with a palette for mixing colors and a comfortable handle.
We have been dreaming of a perfect mixing set. So we create a set which allow you to easily create your own shades similar to the colors found in nature - those dancing on the walls of tenement houses, those found in European landscapes and those that are reflected on human faces!
Each of the primary colors is available in a warm and cool version. In addition to the basic colors - the most stable of a given color or the least "conflicting" with other colors - we have added two colors that are like a magic wand! Meet Potter's Pink and Neutral Tint. It is the addition of these two unusual half pans that make every other color from the palette totally unusual.
Potter's Pink will add texture, stunning granulation and a red tone so often seen in the glare of the sun shining on our everyday architecture. It will make conjuring up natural skin tones a lot of pleasure instead of hardships and repeated attempts without a satisfactory result. Neutral Tint will darken and tone down any of the colors that you consider too shiny or unnaturally saturated, but without a radical change in its pedigree.
Horadam Aquarell watercolor paints are tested to the highest quality standards for stability, fineness, solubility, durability and lightfastness. The perfectly selected formulation, the use of pigments and binders of the highest quality standards have resulted in amazing durability and performance of watercolors.
These paints have the ability to reactivate. You can easily moisten and pick up Horadam paints from the palette and paint with it again without effort or excessive water. Moreover, they guarantee a controlled gradient of colors - even on soft watercolor paper. The key ingredient in Horadam watercolors is the gum Arabic Kordofan obtained from Acacia Verek trees. It comes from the dry zones lying south of the Sahara. Due to its natural origin, gum Arabic Kordofan has extraordinary properties to stabilize paints.
Horadam watercolor pans are filled with paint four times and the process of creating each pans takes up to 4 months! Slow and meticulous filling of paints is created in four stages - layer after layer with evaporation of water between layers. When the cubes or half-pans are completely filled with each of the four layers, paints with amazing properties are obtained - just a little bit of water is enough to activate the pigments. You get concentrated paints that guarantee excellent lightfastness, incredible performance and unparalleled color guidance.
What distinguish Schmincke x PaperConcept set from others?
- 12 specially selected colors to achieve the best effects in mixing colors with each other;
- the set allows you to create the largest number of your own natural shades of colors useful in portraits and landscapes;
- each of the basic colors in the palette is available in both cool and warm shades;
- the set includes two unique shades that complement the palette - Potter's Pink and Neutral Tint;
- pans poured 4 times in liquid state for highest yield;
- same color recipes for pans and tubes;
- high control of paint flow - even on soft watercolour papers;
- fully reusable paint when dried on a palette;
- quality assortment "Made in Germany";
- selected Gum arabic as binder and natural oxgall as traditional wetting agent.

Download basic color chart - click.
Download super-granulating color chart - click.
Download the brochure of Horadam Aquarell - click.
COLORS: Titanium Opaque White 101, Lemon Yellow 215, Jaune Brilliant Dark 221, Vermilion 365, Ruby Red Deep 346, Potter's Pink 370, Prussian Blue 492, Ultramarine Finest 494, Permanent Green Olive 534, English Venetian Red 649, Raw Umber 667, Neutral Tint 782.
PACKAGE: 12 pcs.
COMPANY: Schmincke
REFERENCE: SCH-74640