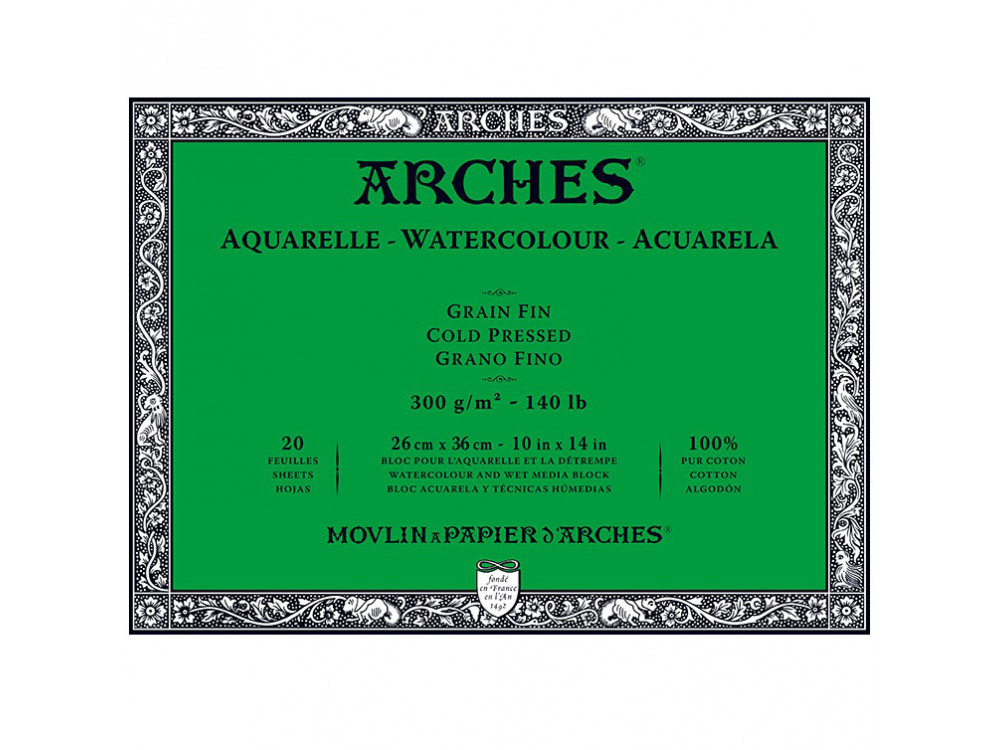 Watercolor paper - Arches - cold pressed, 26 x 36 cm, 300 g, 20 sheets
Check availability in our stores
Choose store:
Warszawa Varso

Chmielna 73

Warszawa

Plac Konesera 10A

Kraków

Pawia 34

Gdańsk

Rajska 10

Poznań

Plac Wolności 8

Wrocław

Krupnicza 6/8

Katowice

Krzywa 12
Podana ilość produktów jest jedynie poglądowa.
Arches watercolor block made of 100% high quality cotton. It perfectly reproduces paper created with the use of artisanal methods. Perfect for painting with watercolors, as well as for all wet techniques such as ink, gouache and acrylic.

Quality close to that of paper made by craft methods. The slow turning of the cylinder enables the fibres to be deposited evenly and spread in all directions over the wire. The fibres are distributed evenly, the paper slackens uniformly when wet, giving the artist more control. This process can produce papers with a high grammage and exceptional resistance to scratching and erasing, when they are gelatin sized to the core. Only papermaking on a cylinder mould can produce paper with deckle edges.

Exclusive to Arches®, gelatin sizing to the core preserves the lustre and transparency of the colors whilst preventing paints from penetrating into the paper. It allows superposing of washes and gives it added strength to resist erasing and scratching without tearing or linting. It also allows paints to be removed, either wet or dry, easily revealing the whiteness of the paper. ARCHES® Aquarelle can absorb a large amount of water with limited deformation.

3 textures: cold pressed, hot pressed and rough. ARCHES® Aquarelle has an even, natural grain. The choice of texture will depend on the medium used by the artist. As a general rule, though, texture is a matter of personal choice for the artist, part of the process of artistic creation and expression.

Wide choice of grammages offering every artist the chance to choose the paper with the bulk best suited to his/her technique. Only ARCHES® offers such a high grammage paper (850 gsm) for special extra-large format work using extreme wet techniques.

FORMAT: 26 x 36 cm
GRAMMAGE: 300 g/m2
TEXTURE: cold pressed
PACKAGE: 20 sheets
COMPANY: Arches
REFERENCE: AS-A1795061