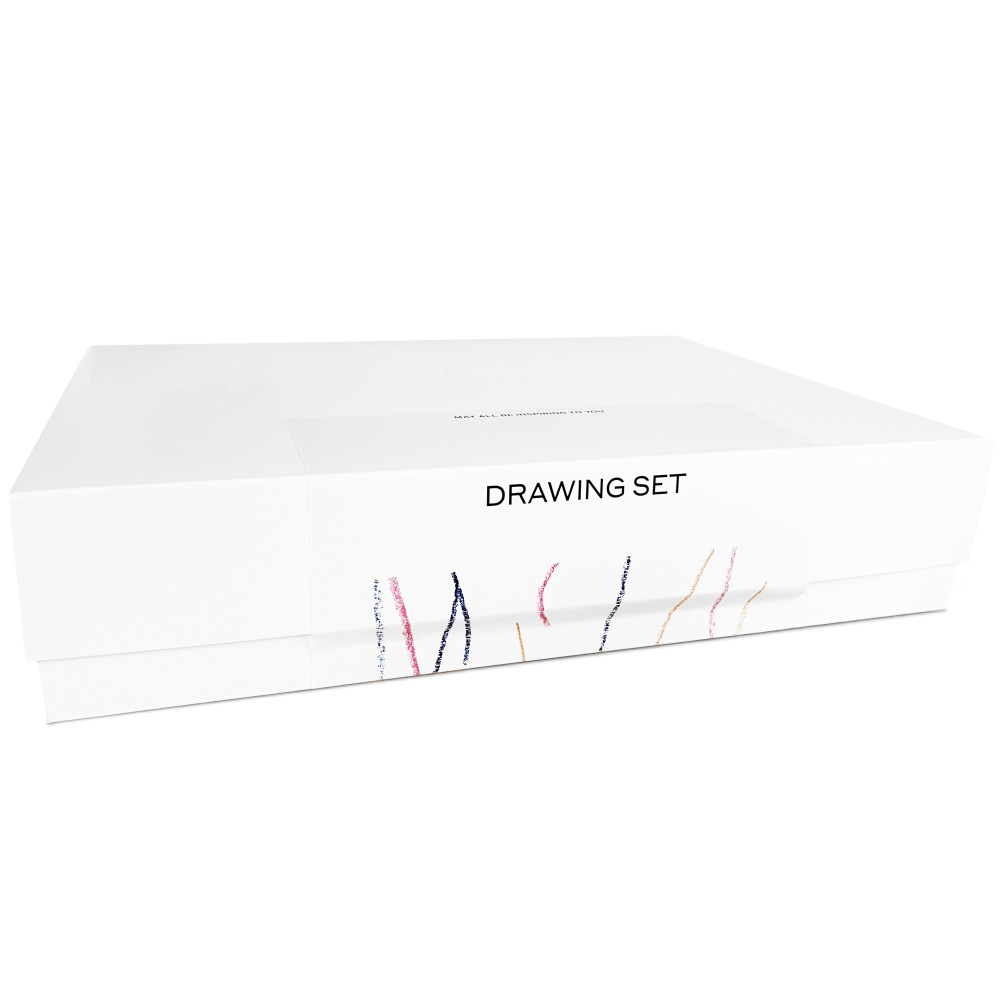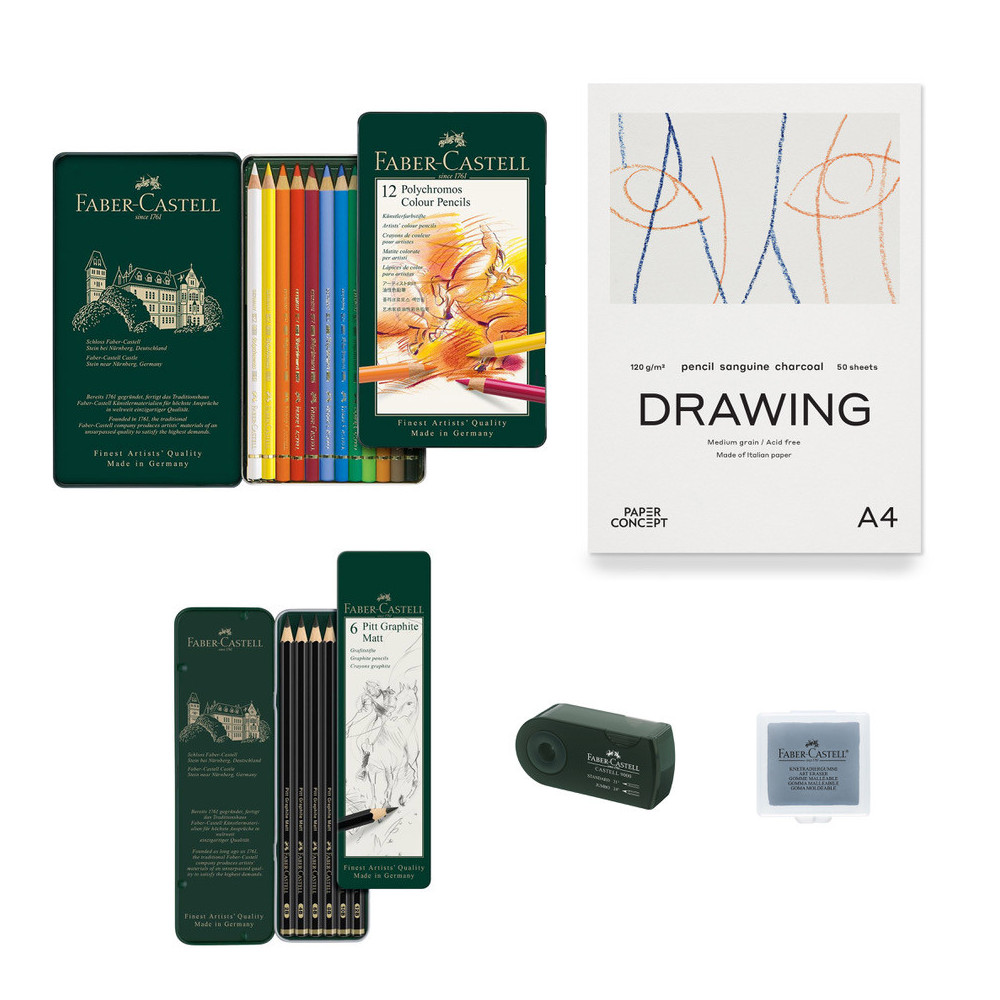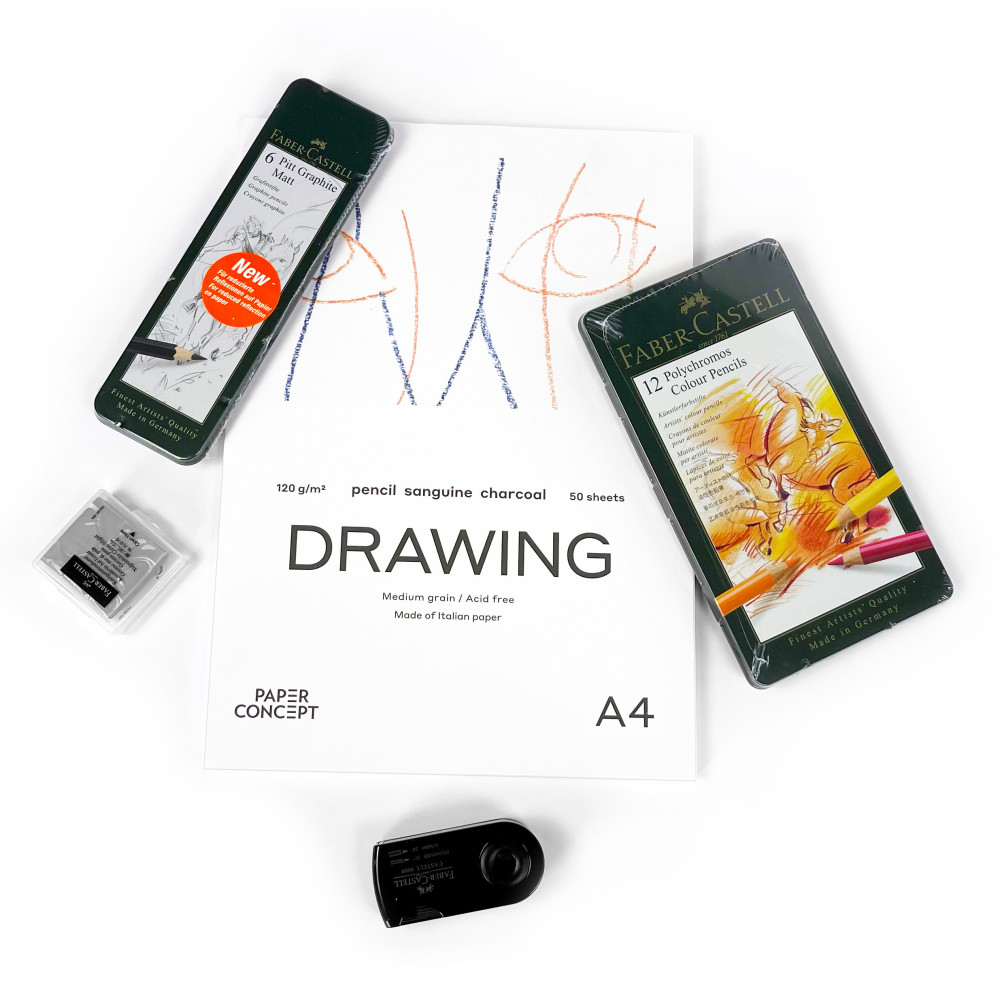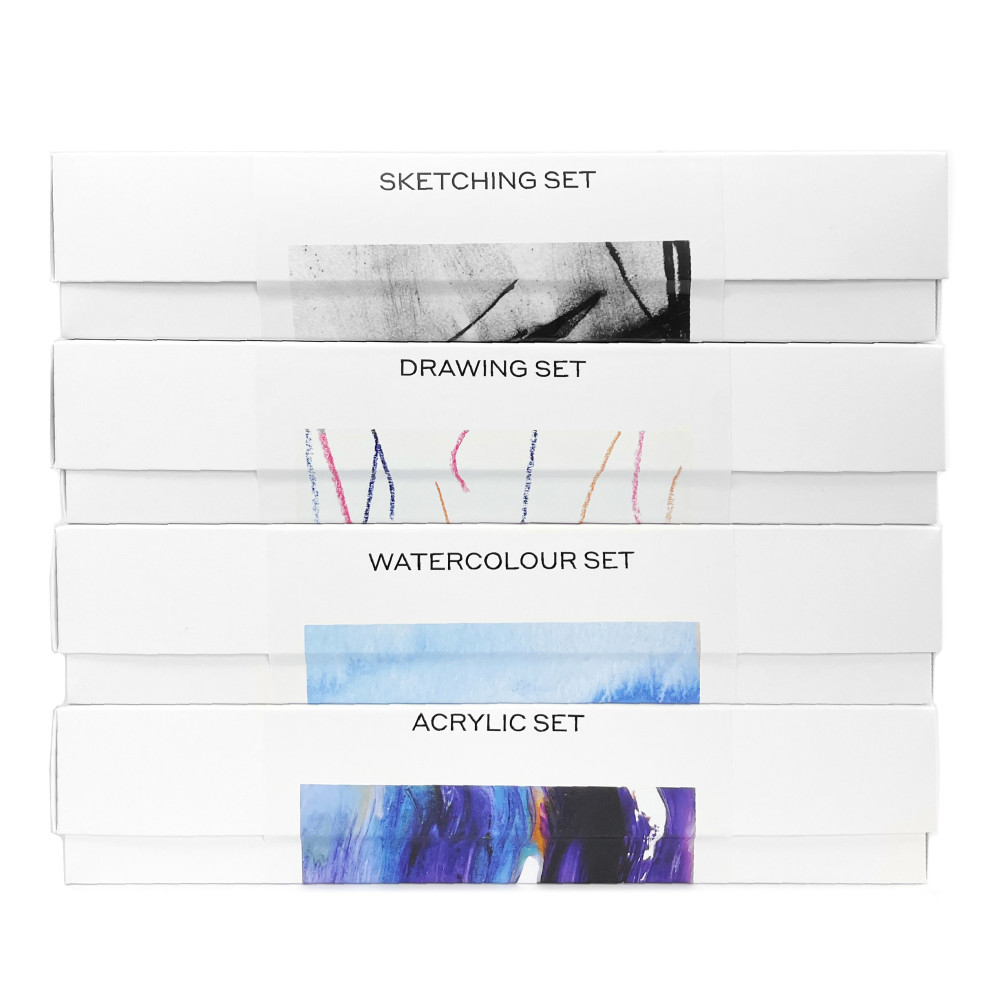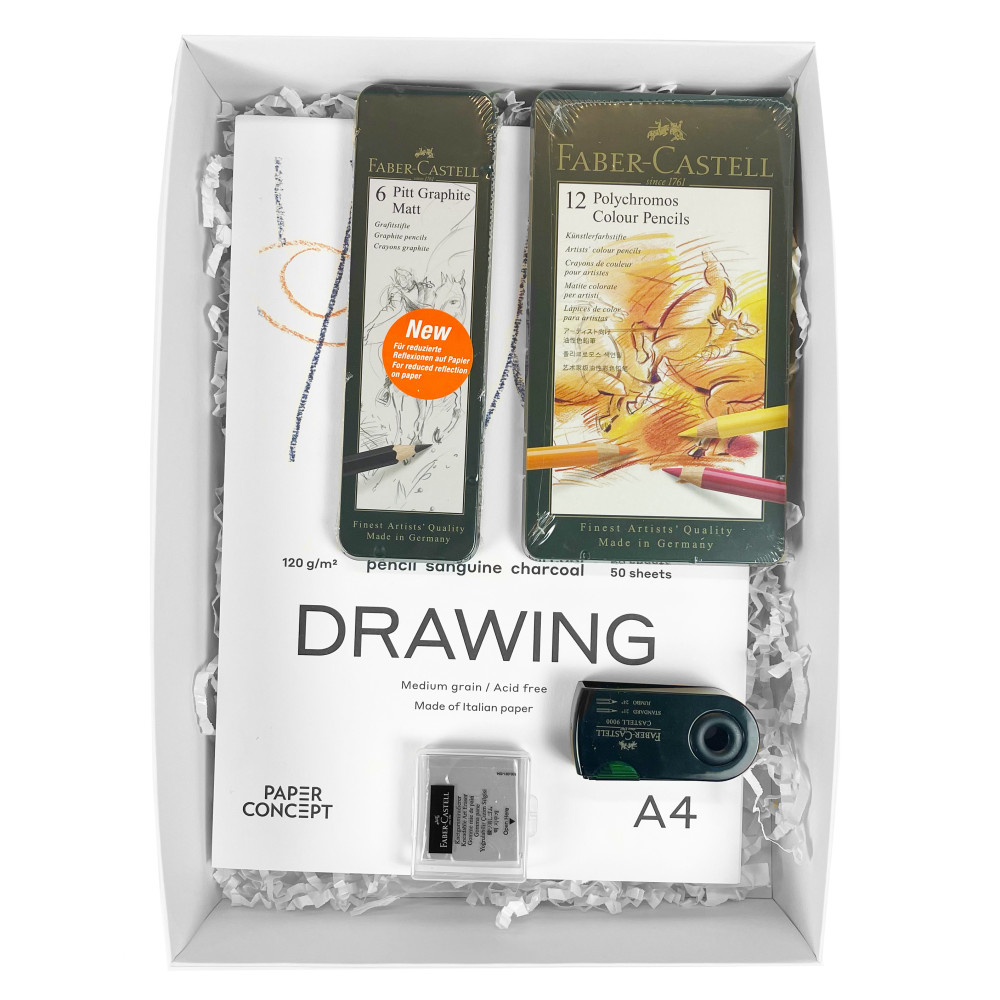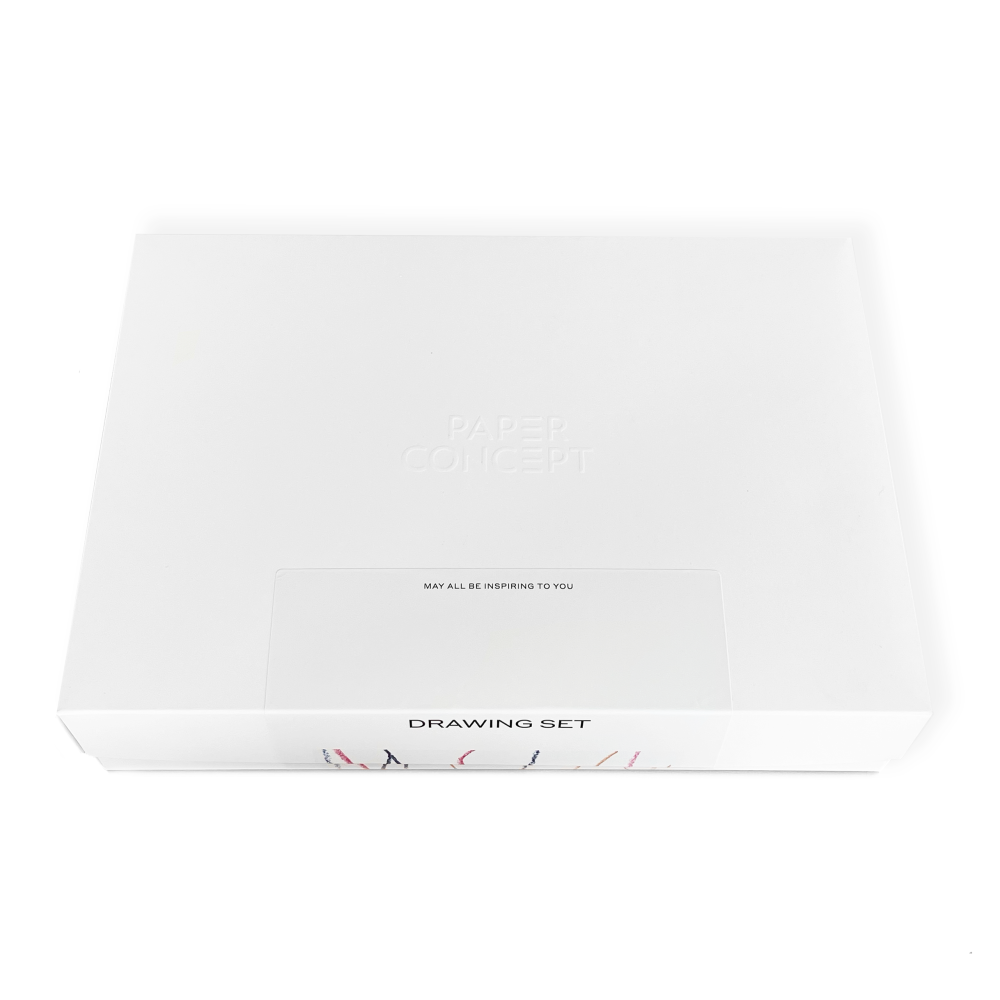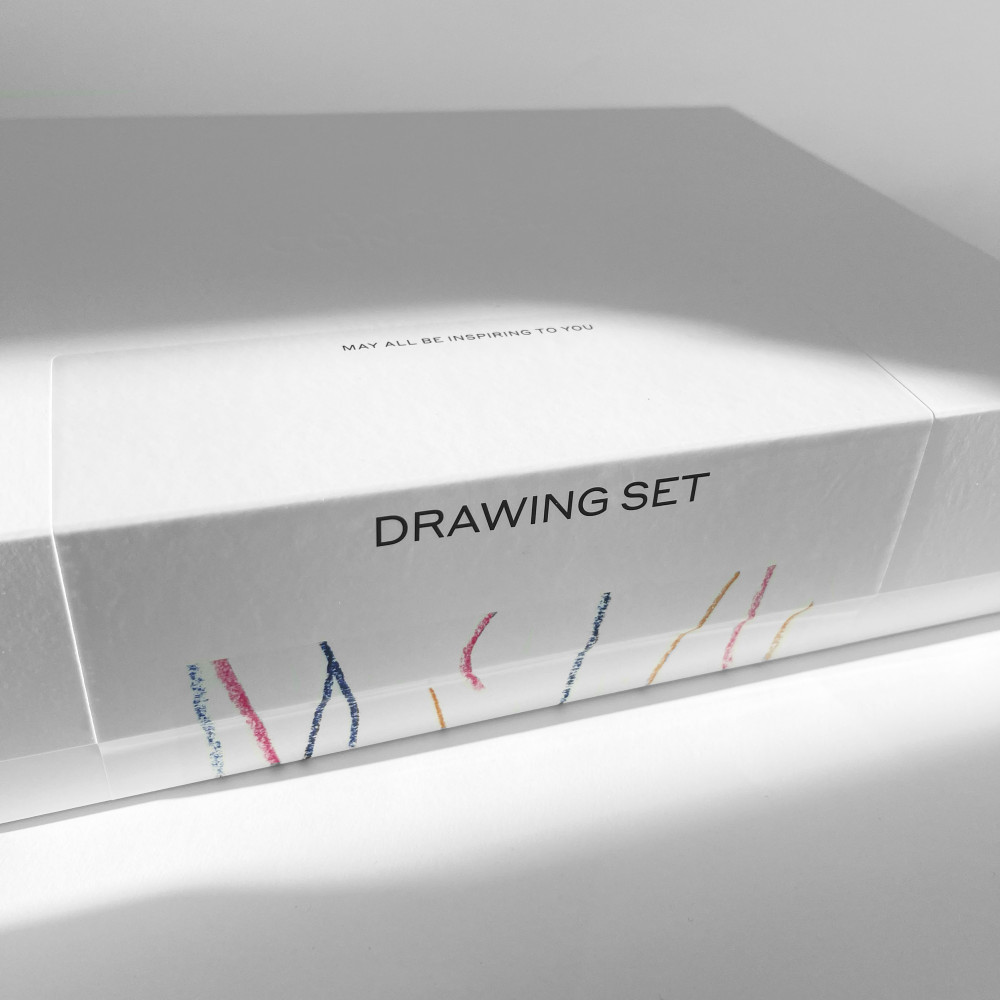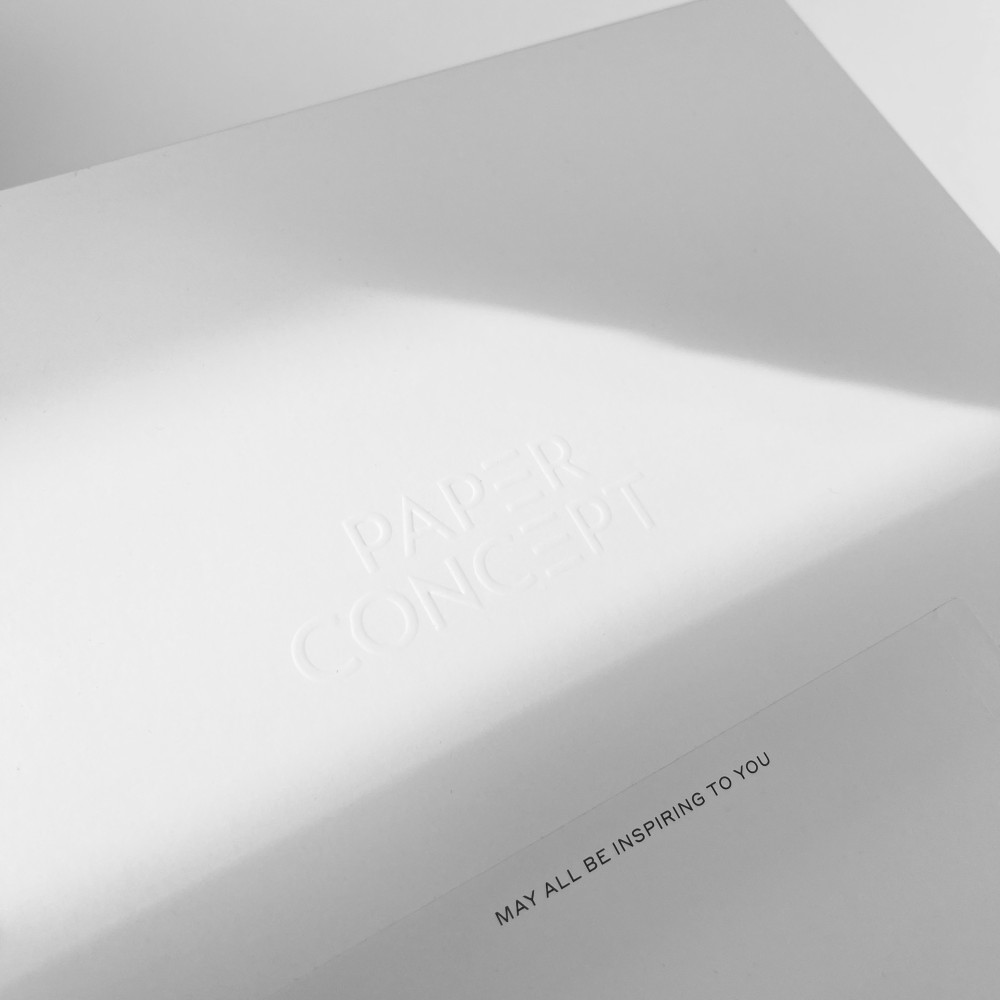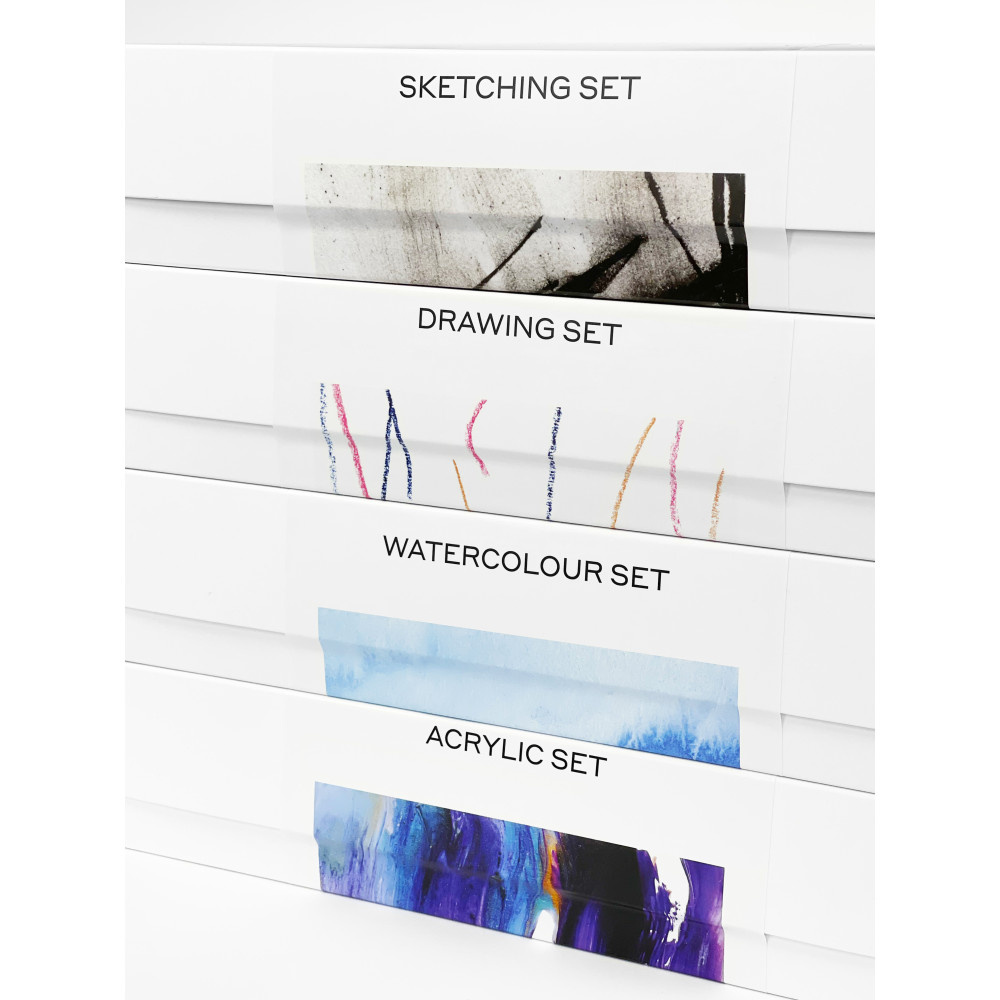 Drawing Set - PaperConcept
Check availability in our stores
Choose store:
Warszawa Varso

Chmielna 73

Warszawa

Plac Konesera 10A

Kraków

Pawia 34

Gdańsk

Rajska 10

Poznań

Plac Wolności 8

Wrocław

Krupnicza 6/8

Katowice

Krzywa 12
Podana ilość produktów jest jedynie poglądowa.
PaperConcept Drawing Set.
We have created this set with beginner artists in mind, it contains everything you need to start your drawing adventure. A perfect gift idea for any artist!
The set includes:
Drawing paper pad - PaperConcept - medium grain, A4, 120 g, 50 sheets.
Drawing block is designed for all dry techniques. It contains 50 sheets of medium grain paper with a weight of 120 g/m2. It is made of acid-free and chlorine-free paper of the highest quality produced in an Italian paper mill. The resistant structure of the paper ensures safe application of multiple layers without damaging the drawing. It works well with pencil, sanguine, charcoal and crayon.
Set of Polychromos crayons in a metal case - Faber-Castell - 12 colors.
Polychromos are the highest quality crayons for artists by Faber-Castell. They are one of the most popular crayon models, and are considered by many artists to be the best drawing crayons.
Polychromos are described as medium-hard crayons, although they draw extremely lightly. They are harder than the equally popular, soft Caran d'Ache Luminance or even the "buttery" Prismacolor Premier. Contrary to popular belief, these are not oil-based, but wax-based crayons. They have incredibly saturated pigment and blend perfectly. What's more, they allow multiple layers and guarantee coverage even when applying a light color over a dark one. Drawing with them on smooth paper, you will easily achieve high contrasts and the pore effect will be minimal. Quick sketches with lightness of line will be created on grainy paper.
Polychromos crayons are permanent, which means they have high resistance to light (fading), abrasion and smudging. In addition, they do not leave unsightly lumps on the paper. Drawings made with Polychromos pencils retain their intensity despite the passage of years.
Pitt Graphite Matt Pencil Set - Faber-Castell - 6 pcs.
The innovative pencils have been specially developed to reduce glare on paper and create the effect of maximum depth, thanks to different degrees of hardness. These are extremely matte, premium quality graphite pencils for artists.
These pencils are perfect for writing, drawing and sketching. They provide an exceptionally smooth and soft application.
The set includes 6 pencils with hardness grades: 2B, 4B, 6B, 8B, 10B, 12B. The whole set is housed in a metal green tin.
Kneaded eraser in a case - Faber-Castell - gray.
Professional gray eraser used for correcting and brightening drawings made with pencil, charcoal, crayons and dry pastel, as well as for cleaning photographic films Once the eraser is dirty, squish it and re-shape it. Eraser packaged in a convenient to store plastic box.
Art double sharpener - Faber-Castell - green.
High-quality, double sharpener in green with an eraser container for easy and clean sharpening. The sharpener is ideal for classic pencils, triangular pencils and pencils from the Jumbo series.

PACKAGE:
- Drawing paper pad PaperConcept (A4, 120 g/m², 50 sheets).
- set of 6 Pitt Graphite Matt Faber-Castell pencils (2B, 4B, 6B, 8B, 10B, 12B);
- set of 12 Polychromos Faber-Castell colour pencils;
- Faber-Castell double sharpener with container;
- Faber-Castell kneaded eraser.
COMPANY: PaperConcept
REFERENCE: PC-D-SET