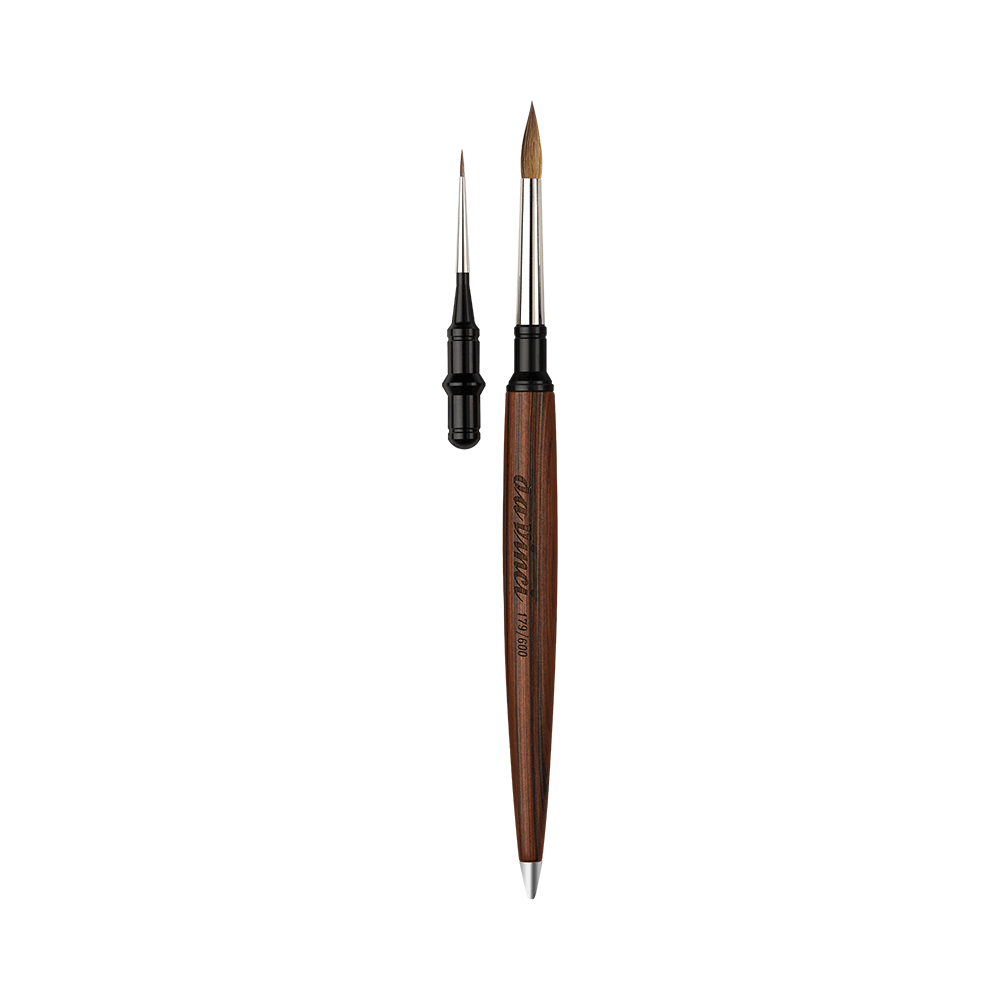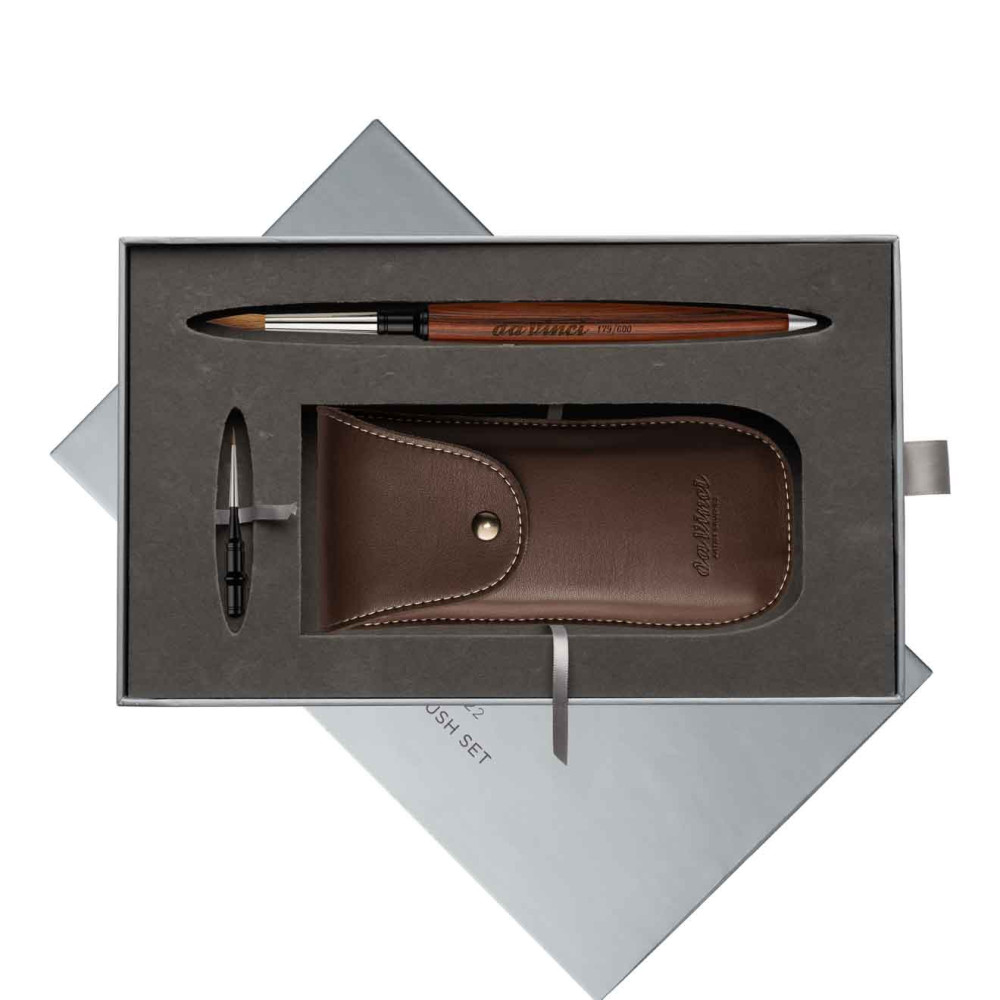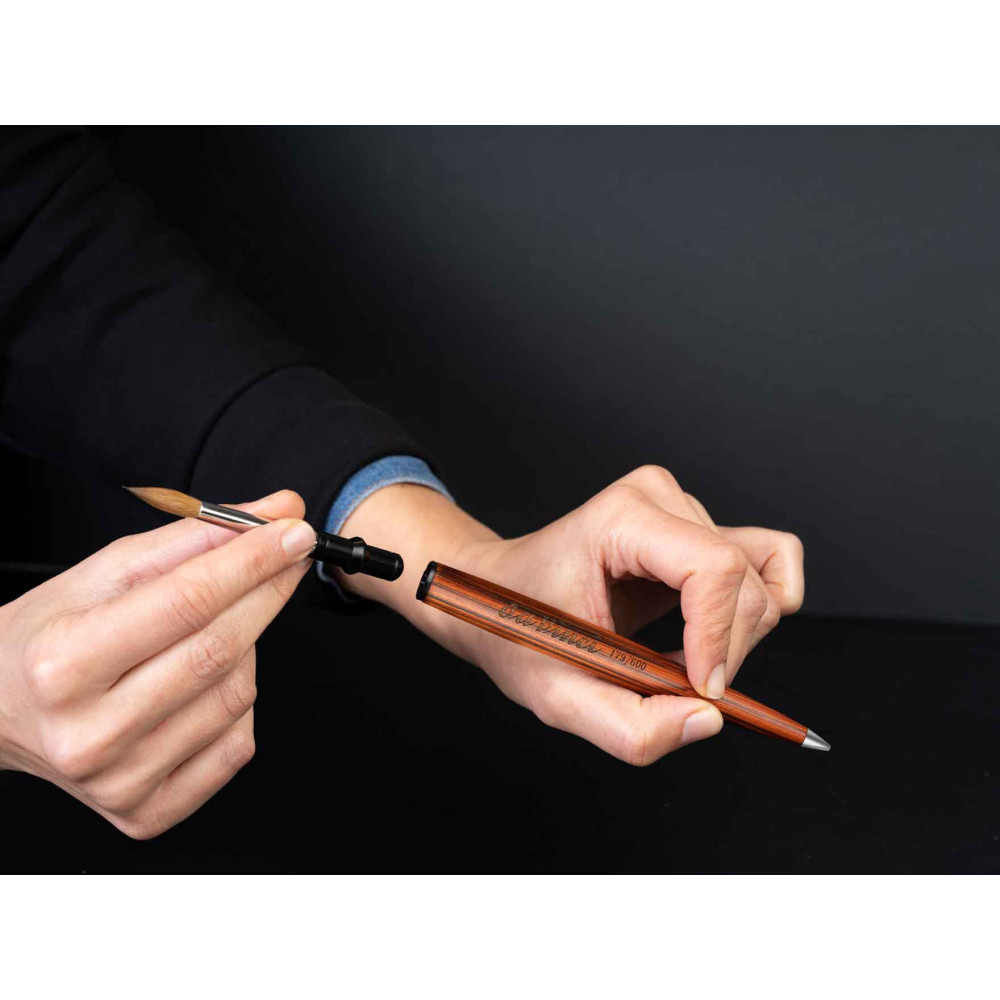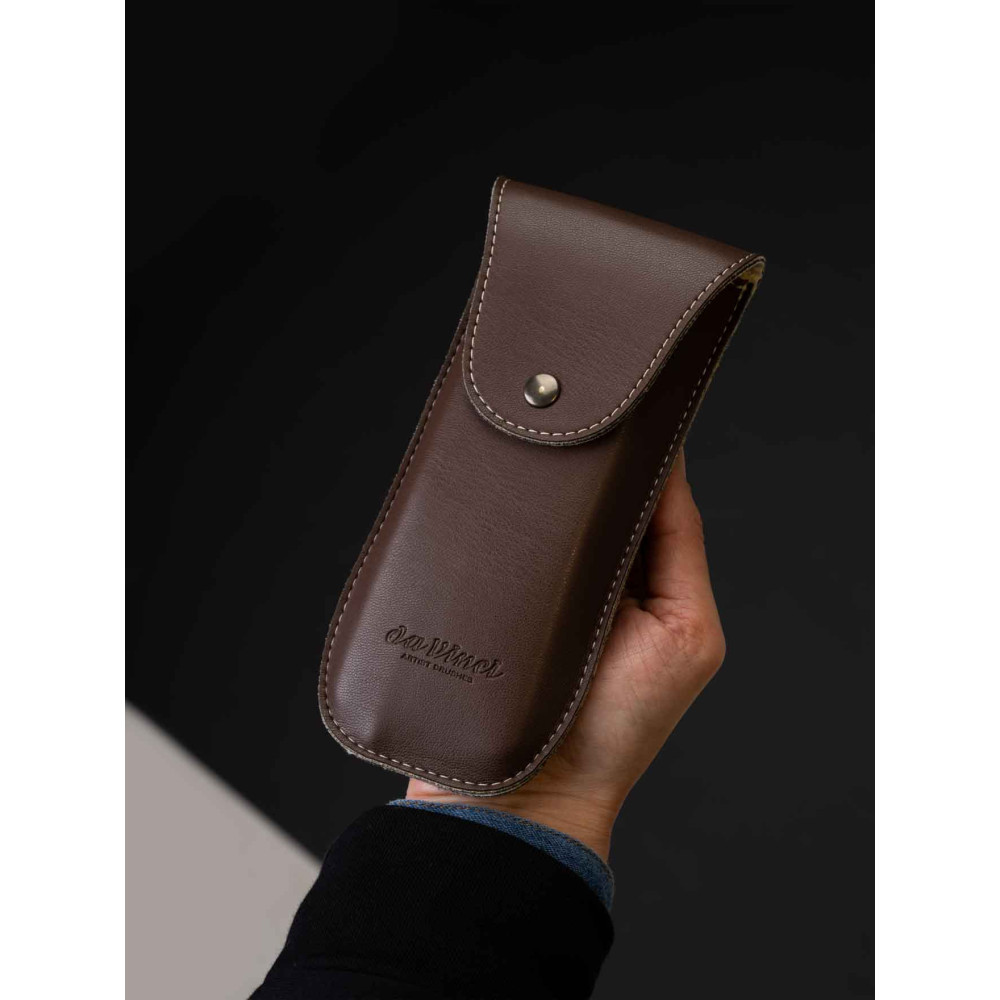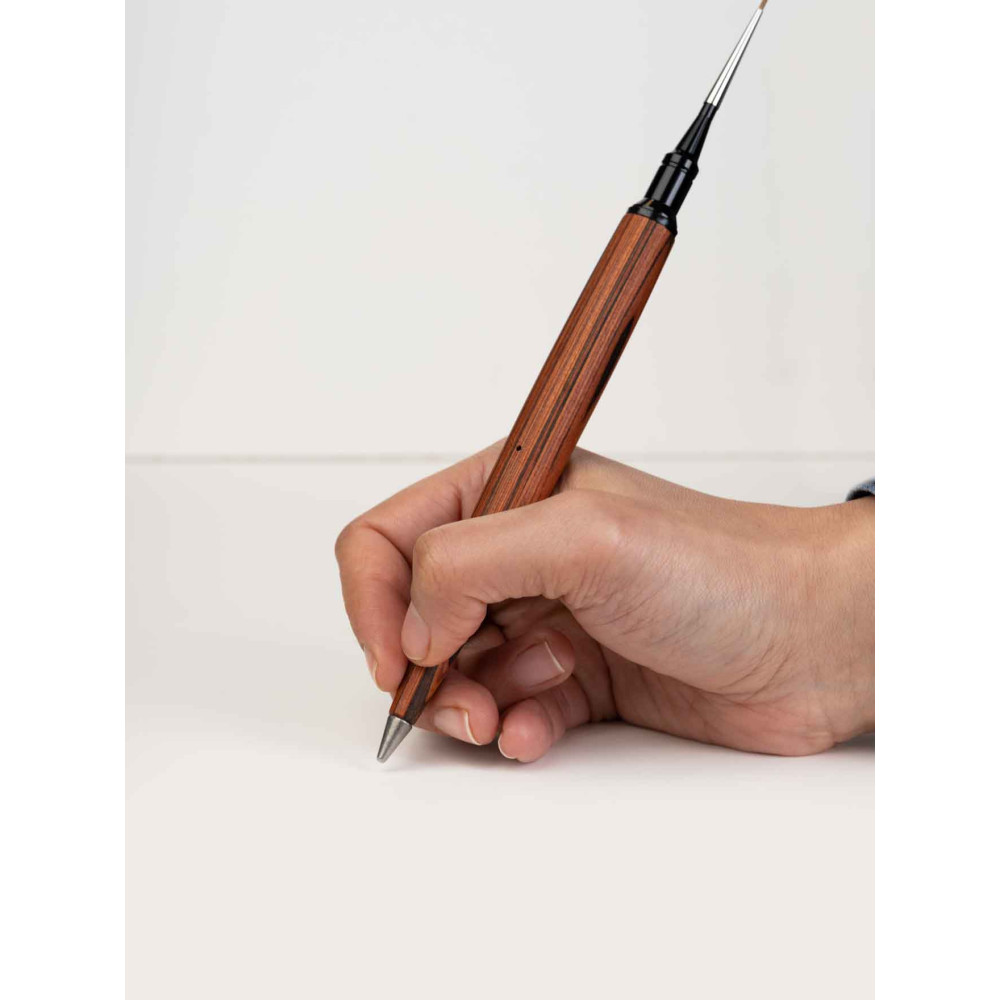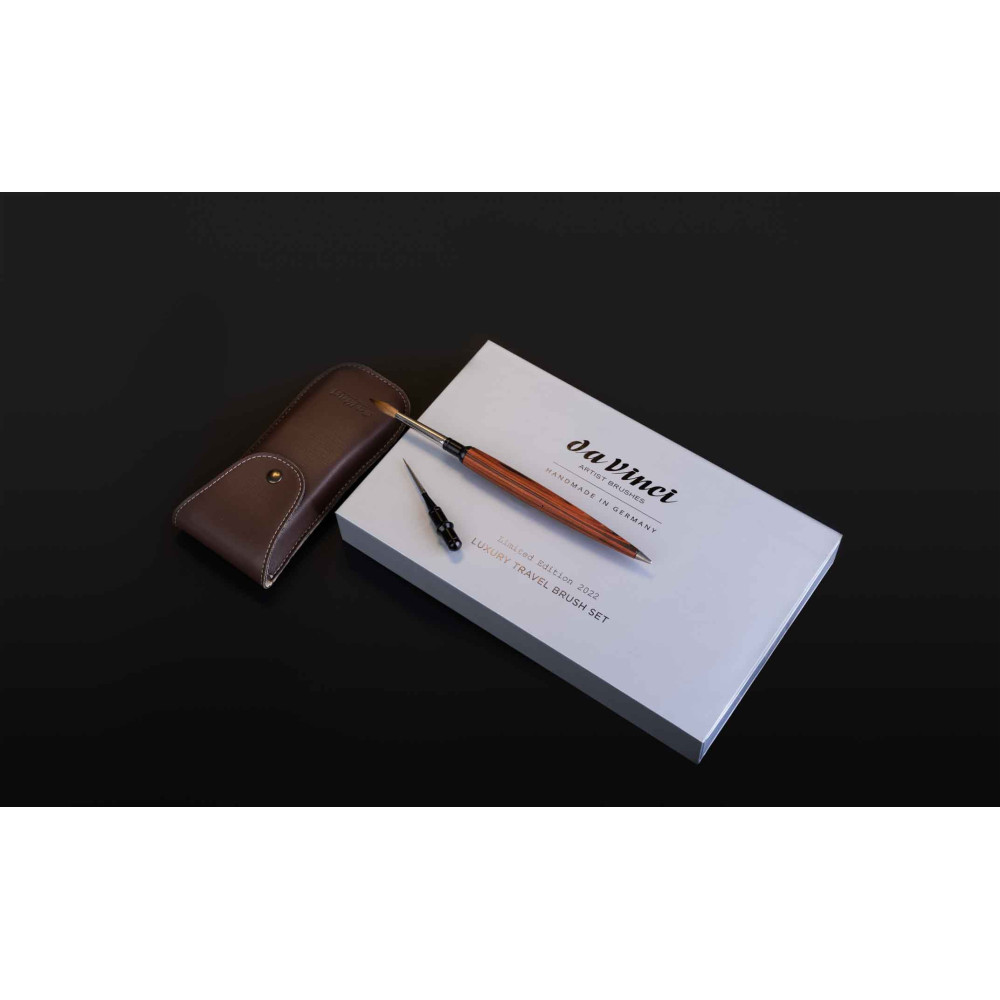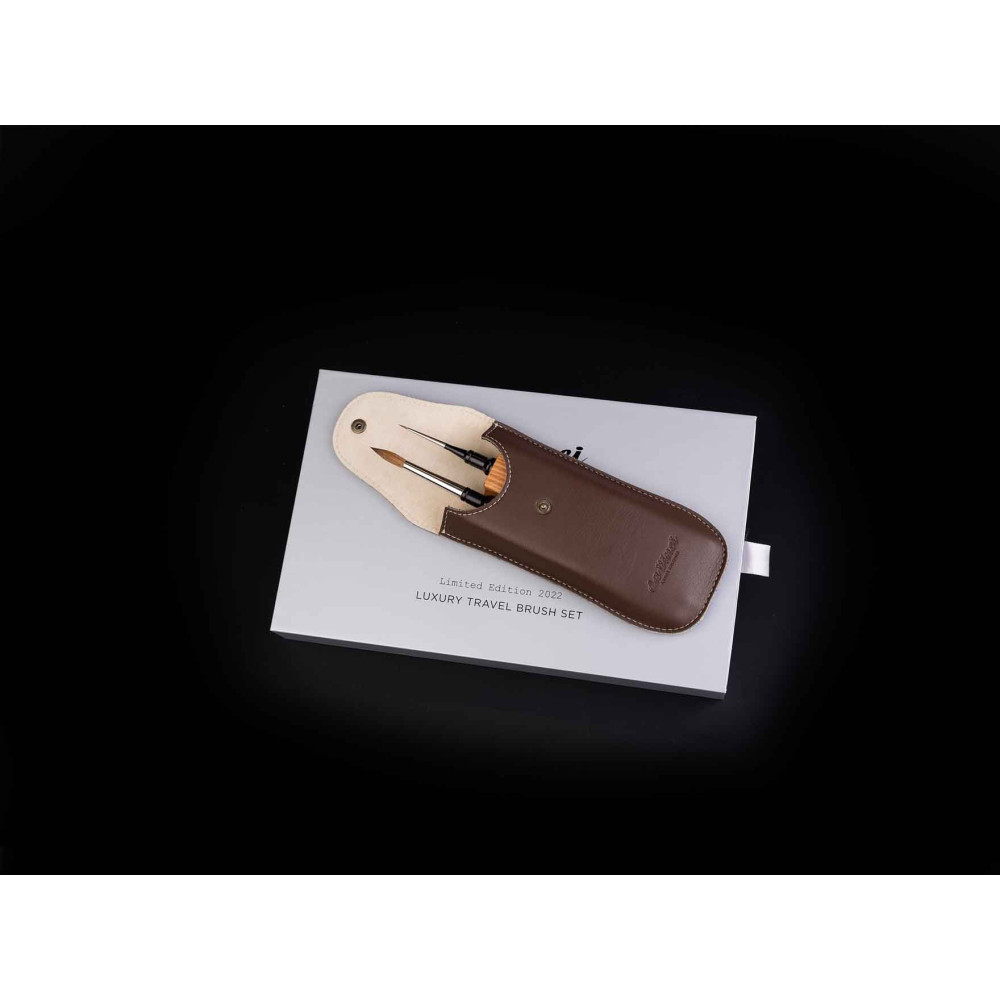 Set of Maestro Tobolsky-Kolinsky natural bristles brushes- Da Vinci - 2 pcs.
1,020,00 zł

765,00 zł

Lowest price within 30 days before promotion:

1,020,00 zł
Check availability in our stores
Choose store:
Warszawa Varso

Chmielna 73

Warszawa

Plac Konesera 10A

Kraków

Pawia 34

Gdańsk

Rajska 10

Poznań

Plac Wolności 8

Wrocław

Krupnicza 6/8

Katowice

Krzywa 12
Podana ilość produktów jest jedynie poglądowa.
We are delighted to present an exclusive, limited edition of Maestro Tobolsky-Kolinsky Travel brushes created in celebration of the da Vinci brand's 70th birthday.
These elegant and innovative watercolor travel brushes embody not only the company's quality standards, but also the spirit of Leonardo da Vinci. Each brush features a laser-engraved logo and a copy number (only 600 pieces were produced). The brushes are housed in an elegant box, the set also includes an ecological brown leather case. Each copy comes with a quality certificate. Thanks to a clever mechanism, the brush head can be easily replaced or fixed to the handle with a single click. The brush head can also be stored safely in the handle, this will prevent mechanical damage to the bristles. The handle is made of waterproof, multicolored, pleasant-to-touch hi-tech wood. This unusual painting tool also has an Ethergraf metal tip attached to the end of the handle, which allows sketching on multiple papers.
Maestro Kolinsky Series 10 watercolor brushes are made from specially selected natural bristles extracted from the tails of the Siberian sable. They are characterized by an exceptionally fine point and incredible flexibility and absorbency. The bristles of the brushes have been placed in a polished silver ferrule positioned. Maestro brushes will be ideal for watercolor, gouache, glass painting, design, printmaking and restoration. They will also work well for painting porcelain, glass, miniature painting, modeling, painting dolls, figurines, restoration and retouching. Each brush has been thoroughly tested at the production stage.
Da Vinci is a German brand and manufacturer specializing in art brushes. For generations, it has been creating the finest tools for the most diverse areas of application, including special brushes for a wide range of media and painting techniques, such as gilding or makeup, and even brushes for the dental industry for painting porcelain and ceramics.
Top-quality materials, traditional craftsmanship and multi-generational experience combined with state-of-the-art automated production processes have accompanied the da Vinci Art Brush Factory since the middle of the last century. Perfect quality and reliable production standards are the foundation for their entire range of products. All brushes (including their components) are entirely manufactured in Germany.
Most important in the production of da Vinci brushes is the careful selection of raw materials (some of which are prepared specifically for the brush types), unique design and phenomenal workmanship. The da Vinci company produces amazing quality brushes with utmost care and great passion. They are recognized by artists around the world and meet their highest requirements.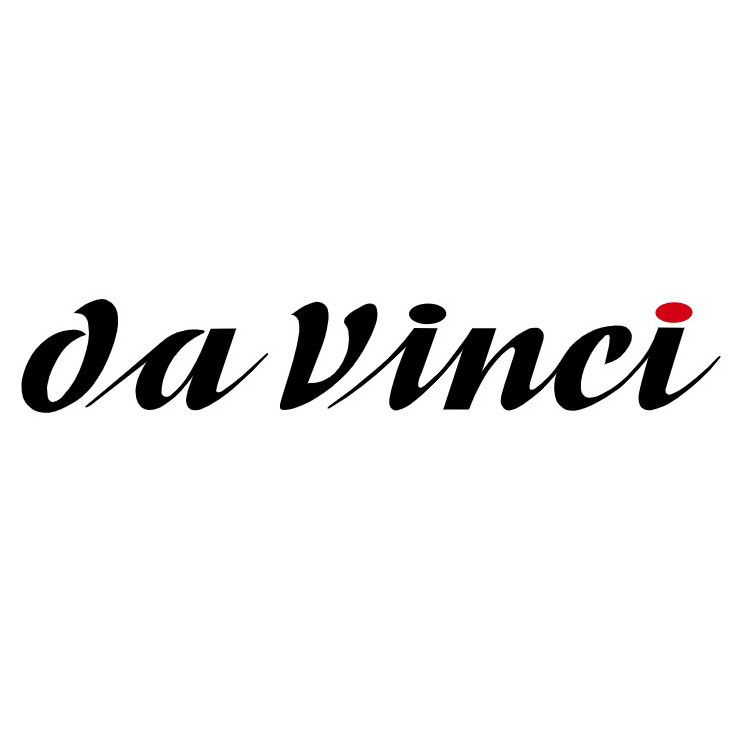 SERIES: Maestro Tobolsky-Kolinsky 10
PACKAGE: 2 pcs. (2 round tips, handle, eco leather case, box.)
COMPANY: da Vinci
REFERENCE: DV-VA-10-2022_0