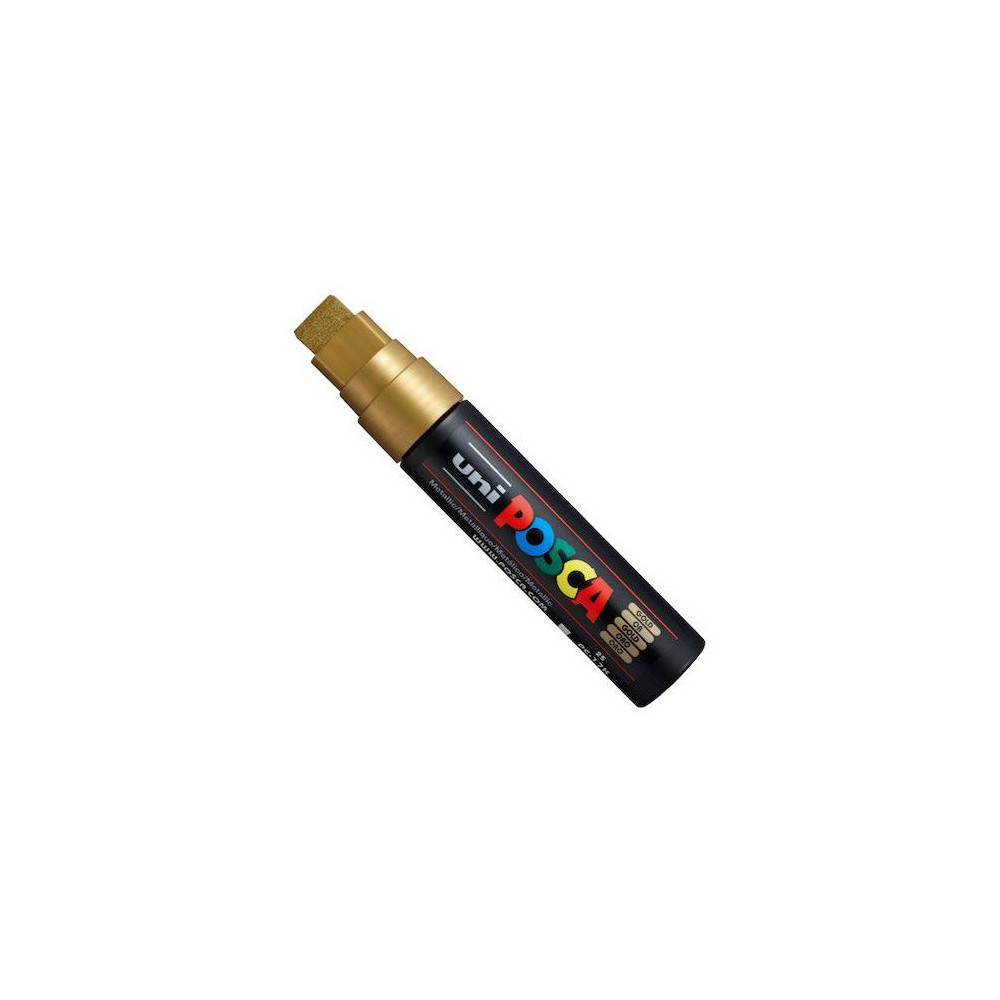 Posca Paint Marker Pen PC-17K - Uni - gold
Check availability in our stores
Choose store:
Warszawa Varso

Chmielna 73

Warszawa

Plac Konesera 10A

Kraków

Pawia 34

Gdańsk

Rajska 10

Poznań

Plac Wolności 8

Wrocław

Krupnicza 6/8

Katowice

Krzywa 12
Podana ilość produktów jest jedynie poglądowa.
The Posca PC-17K marker with a wide tip is an expert in the POSCA range. Thanks to its XXL size, it is the best friend of poster makers and macro artists! It is suitable for artists creating in four walls in an open space, lovers of decorating and giving the interior a new look, furniture, objects and fabrics, surfers and skateboarders for decorating equipment, and also for professionals - for decorating display cases. The marker paint is opaque, fluid, smooth, dense and has a high hiding power. It can be mixed, diluted and applied in layers. The results are similar to those that can be obtained with acrylic paint. The colors can be mixed directly on the substrate as long as the paint is still moist. Due to the short drying time, successive layers can be applied minute by minute. Light colors can be applied over dark ones without fear. The paint can be diluted to obtain a color gradation effect, i.e. blurring.
The main advantages of POSCA markers: - the ink does not soak through the paper;
- non-toxic product;
- can be painted over the body
- different colors do not mix with each other after the ink dries;
- resistant to light and weather conditions;
- unique water-based pigment ink;
- poster paint was used in the markers.
They are suitable for writing on materials such as: glass, metal, wood, plastic, fabric, porcelain, terracotta, paper, wood, and even on the body. Who can use Posca markers? This product is aimed primarily at: artists, graffiti artists, students, students and children of all ages! It is perfect for professional use, suitable for lovers of handicrafts, especially scrapbooking and creating greeting cards, and artists who use it to make finishes, details and contours. Thanks to POSCA markers, you can design a T-shirt or a cap with a visor - just iron the material and the pattern will be durable. It's not everything! The product can also be used to decorate shop windows, music, sports equipment or even a car! Additionally, it can be painted over the body - the paint can be easily removed with soap and water.
 How can color be preserved?
- glass, plastic, metal, wood, paper, terracotta - overcoating with colorless varnish;
- ceramics - fire in the oven at about 180 ° C;
- fabric - iron with an iron, no steam on the other side.

COLOR: gold
TIP SIZE: 15 mm
TIP TYPE: extra broad chisel, acrylic
PACKAGE: 1 pc
COMPANY: Uni Posca
REFERENCE: UNI-PC17K-GOLD