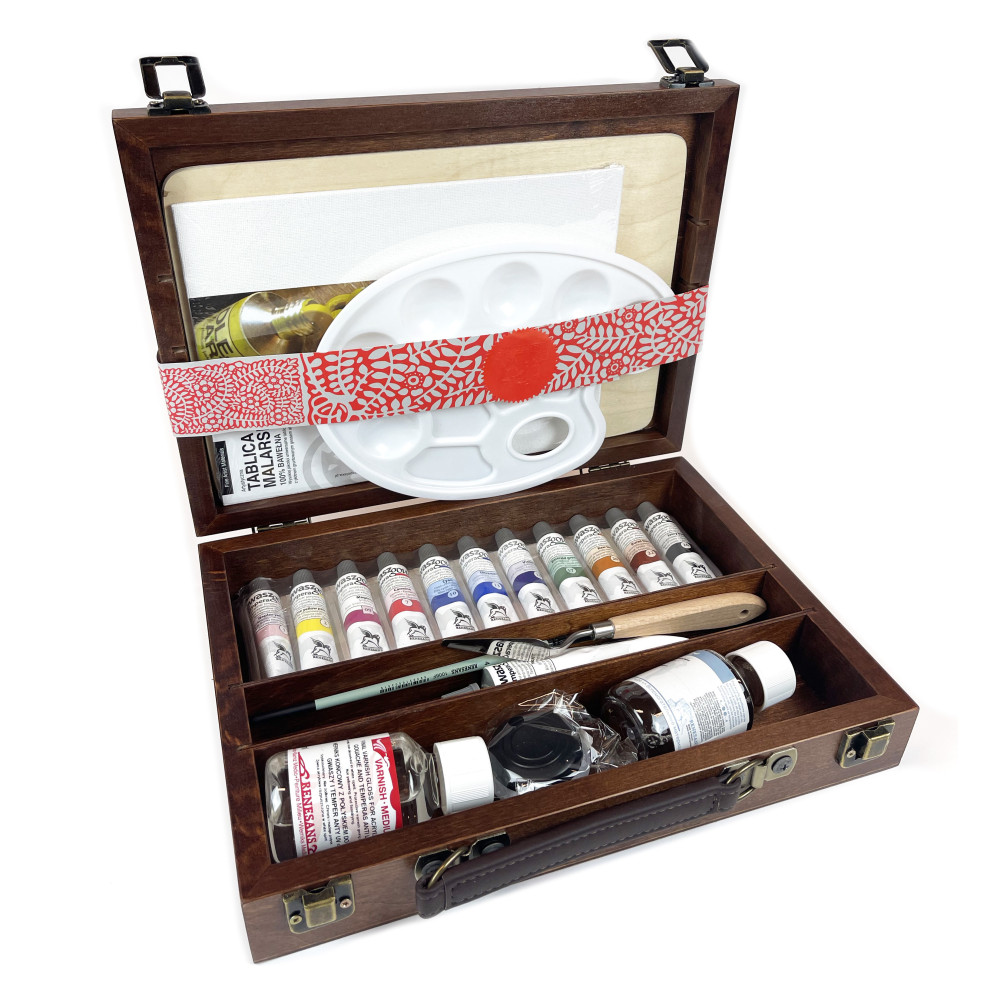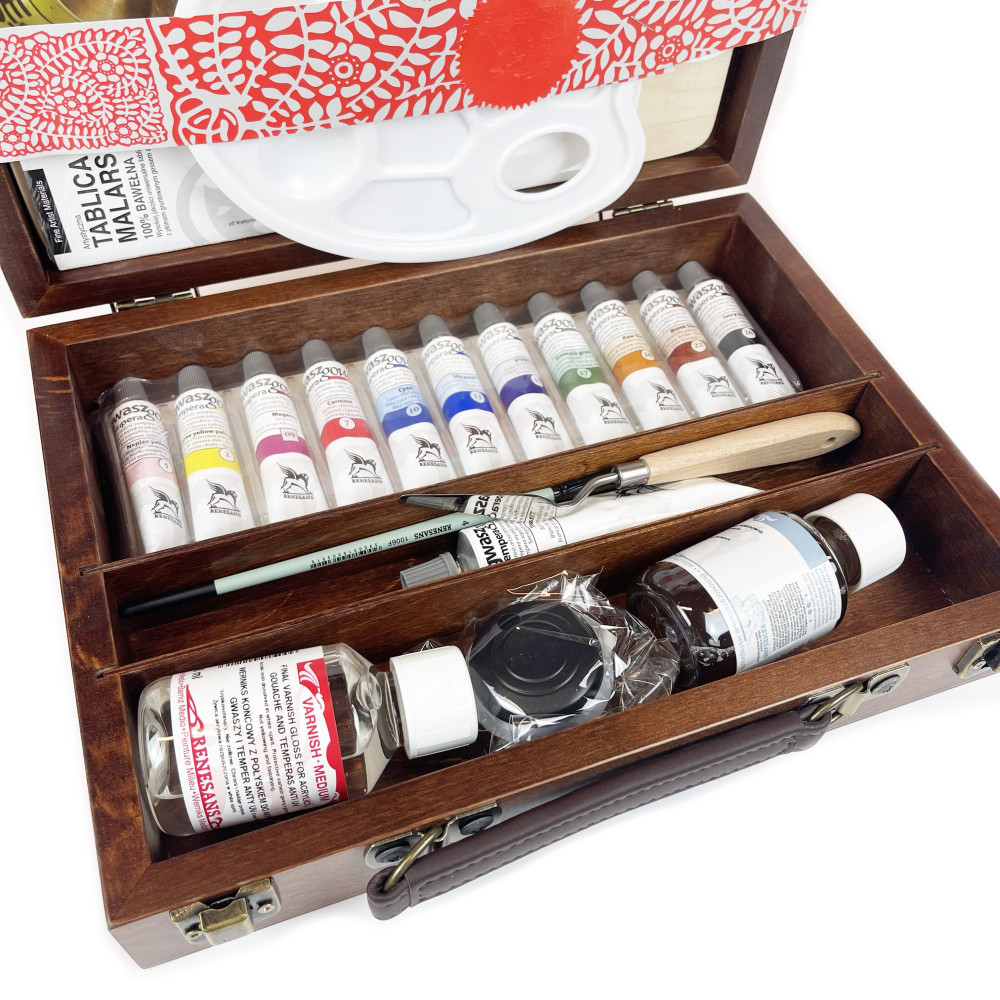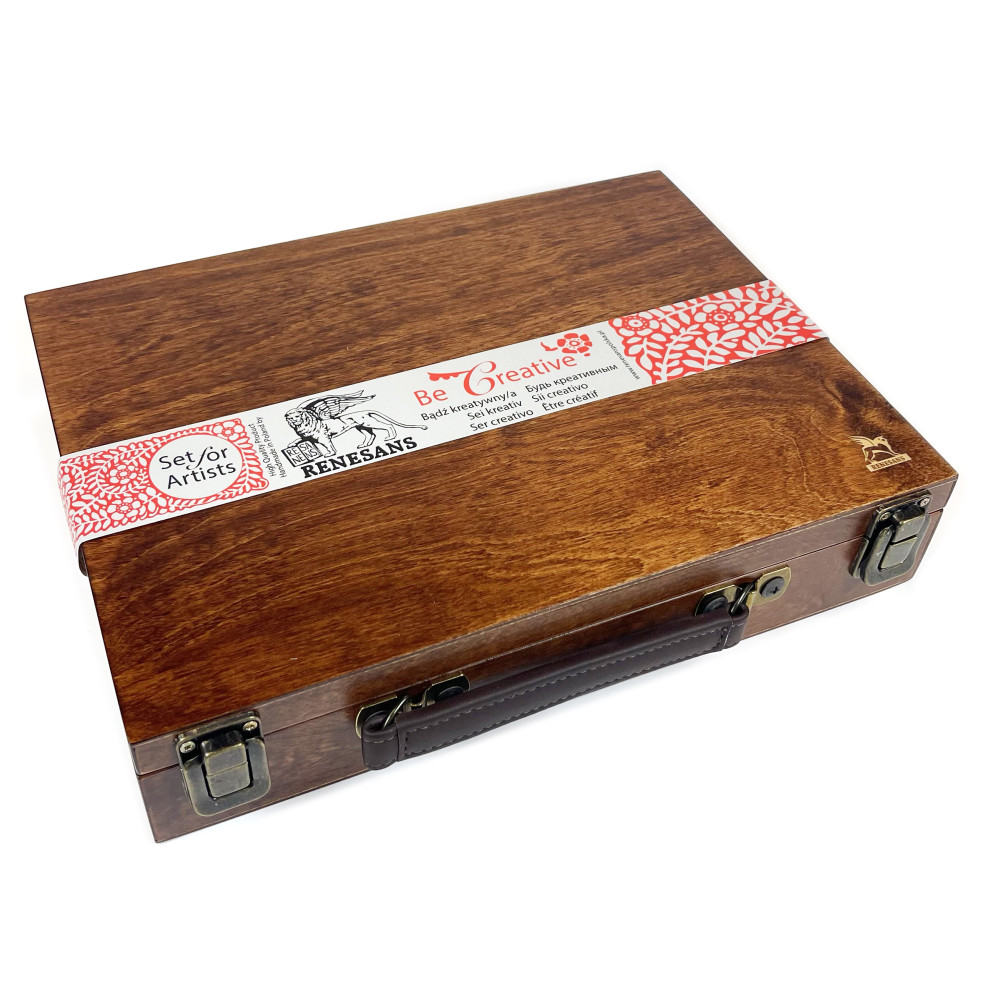 Set of gouache paints in wooden box - Renesans - 12 colors x 20 ml
Check availability in our stores
Choose store:
Warszawa Varso

Chmielna 73

Warszawa

Plac Konesera 10A

Kraków

Pawia 34

Gdańsk

Rajska 10

Poznań

Plac Wolności 8

Wrocław

Krupnicza 6/8

Katowice

Krzywa 12
Podana ilość produktów jest jedynie poglądowa.
A set of gouache paints in tubes in a wooden case with accessories by Renesans.
Renesans gouaches are easy-to-use, opaque, thick paints, which when dry form a flexible, but still water-based coating. In addition to pigment, gouache uses kaolin and other raw materials that make the paint highly soluble. The binder in our gouaches is gum Arabic. They are painted, forming a thick, well-covering layer on dry or moist paper. They can be applied with an airbrush to produce exceptionally saturated and smooth surfaces. Gouache also blends well with other techniques, including watercolors, pastels, drawing, acrylics, which is why it is very popular among designers and illustrators. All tempera paints fade and brighten considerably after drying, so to avoid this, auxiliary liquids are used to fix and deepen the shade of gouache.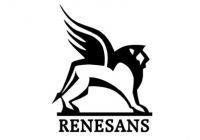 CAPACITY: 11 x 20 ml, 1 x 60 ml
PACKAGE:
- 11 gouache paints x 20 ml;
- 1 Titanium White gouache paint x 60 ml;
- wooden painting palette;
- plastic painting palette;
- painting board 100% cotton 18 x 24 cm;
- flat brush no. 4 1006F;
- painting spatula no. 7;
- gouache medium 100 ml;
- anti-UV gloss final varnish 100 ml;
- plastic bowl.
COMPANY: Renesans
REFERENCE: REN-REKAGW20ML