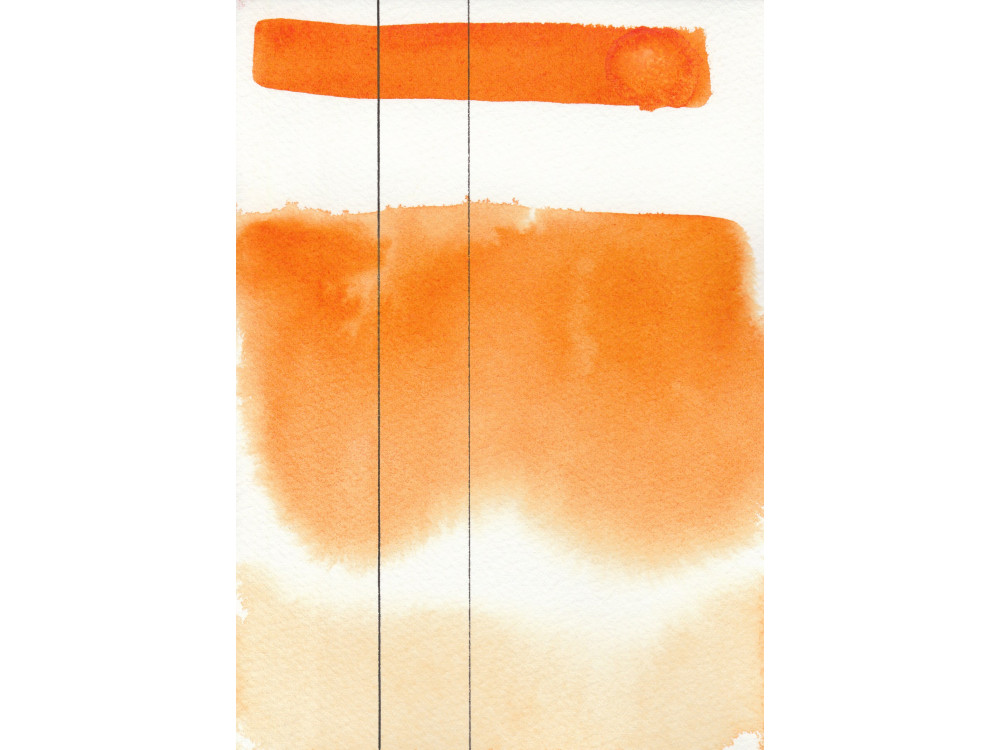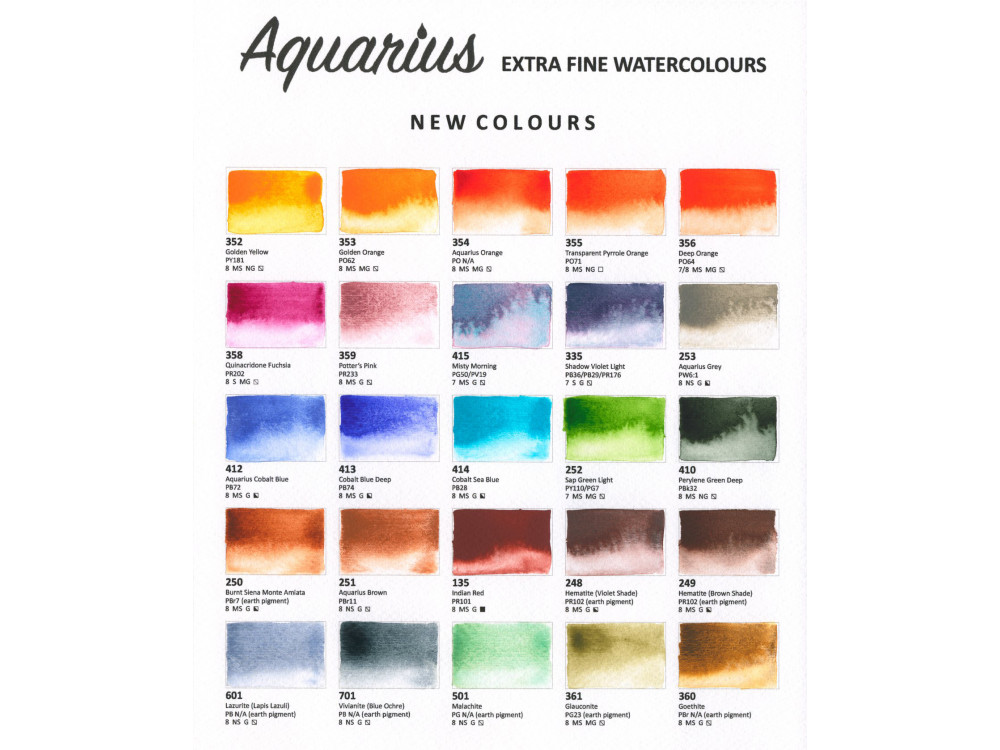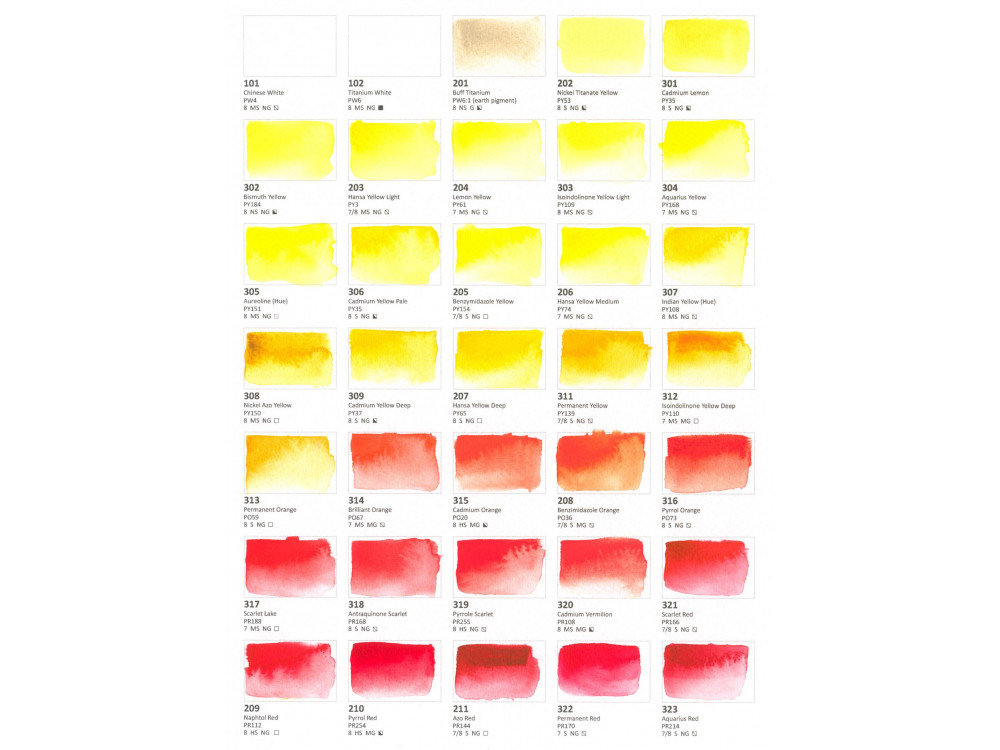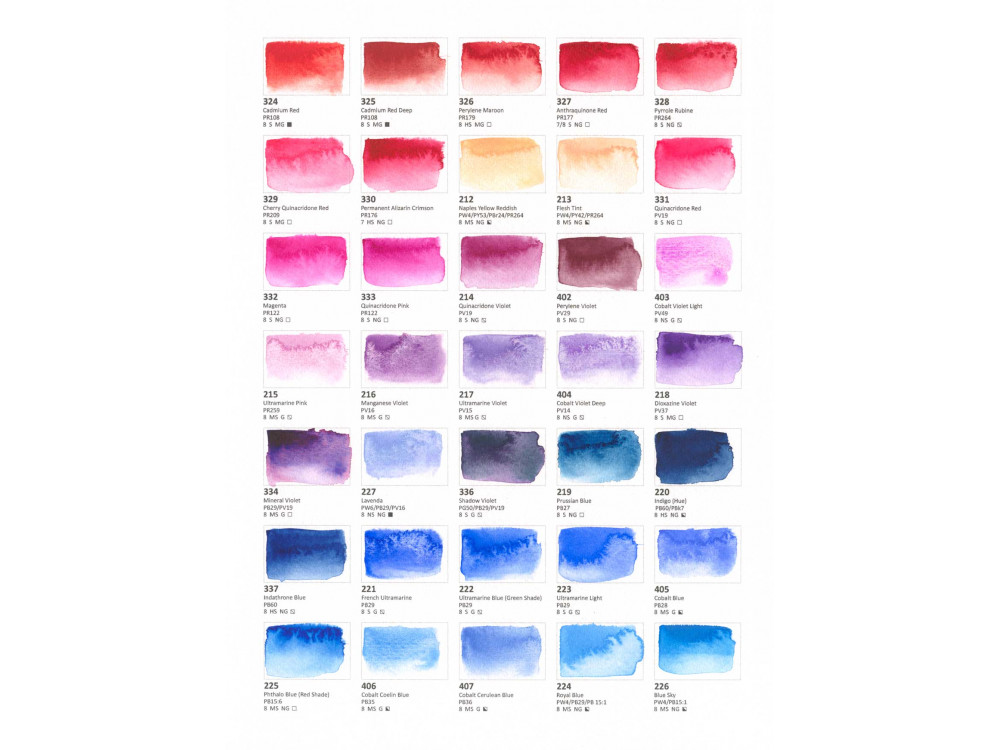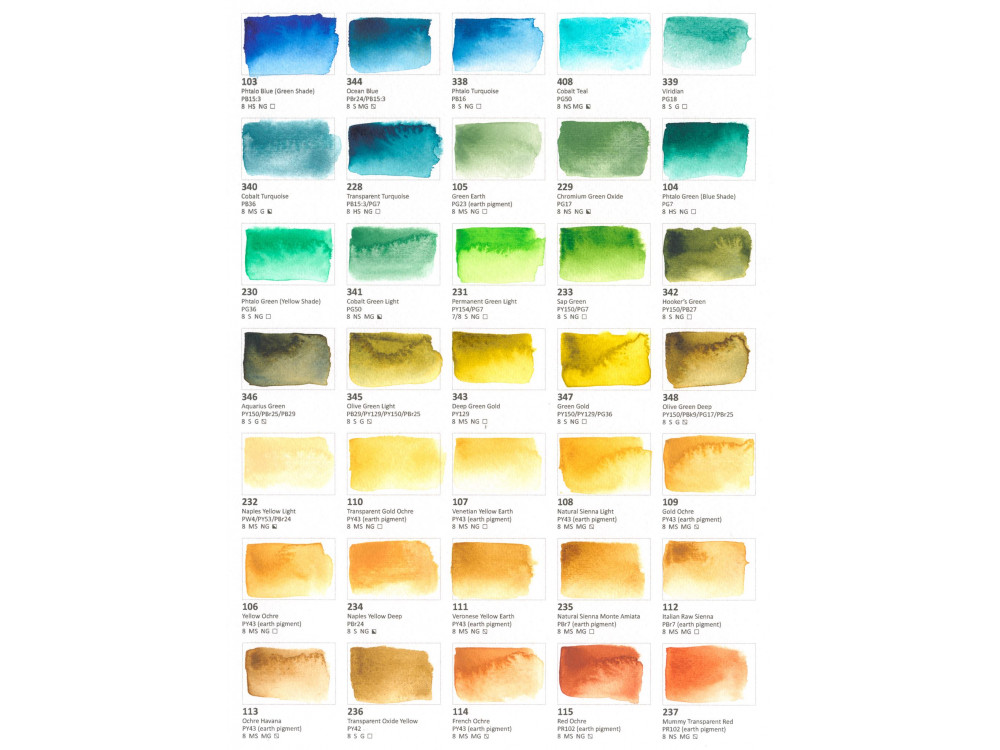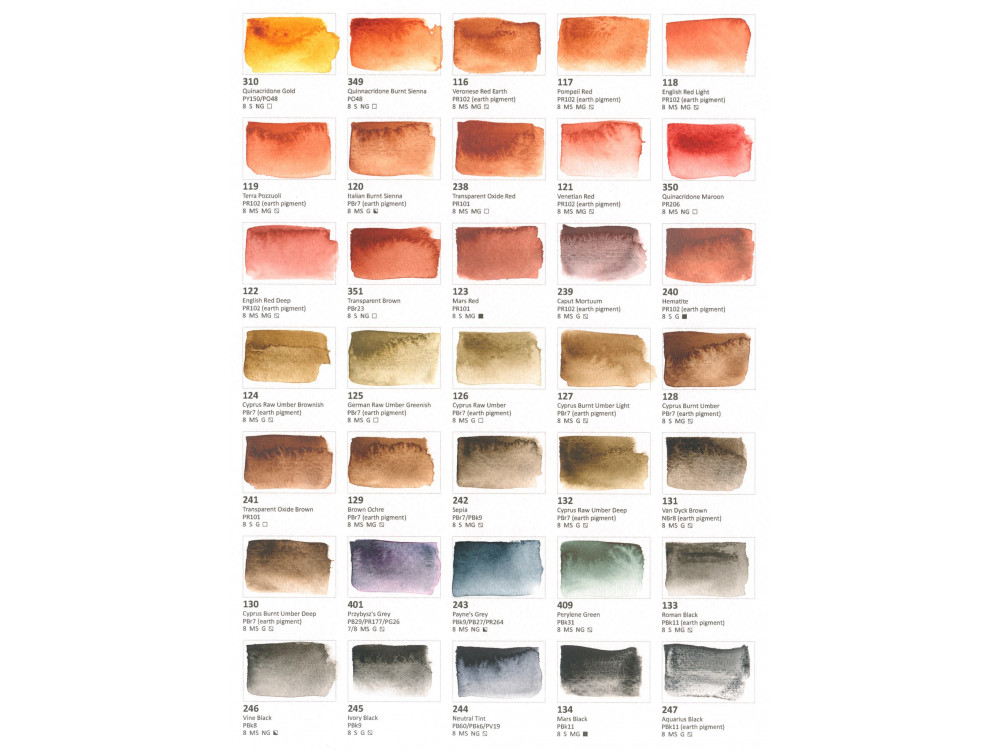 Aquarius watercolor paint - Roman Szmal - 313, Permanent Orange, pan
Check availability in our stores
Choose store:
Warszawa Varso

Chmielna 73

Warszawa

Plac Konesera 10A

Kraków

Pawia 34

Gdańsk

Rajska 10

Poznań

Plac Wolności 8

Wrocław

Krupnicza 6/8

Katowice

Krzywa 12
Podana ilość produktów jest jedynie poglądowa.
Aquarius watercolor paints are the flagship product of the Roman Szmal brand. These paints are the highest quality Polish watercolors, manufactured in Kraków. Aquarius are available in full pans with dimensions of 27x15x8 mm.
Aquarius paint means 165 colors' palette. All of the colors are 100% based on natural pigments. They contains no synthetic substitute. The binder of each of the paints is gum arabic and bee honey. Thanks to the addition of honey, the paints retain moisture for a long time.
139 Aquarius colors are mono-pigment - which means they are based on only one pigment. It ensures perfect color distribution on the paper. Each of the 42 earth colors was made of pigments obtained by grinding rock, without synthetic additives like iron pigments. 8 colors are quinacridones, some of them are granulating colors. The palette also includes perfectly composed original colors of Roman Szmal: Aquarius yellow, Aquarius red, Aquarius green, Aquarius black.
All Aquarius watercolors have a very high lightfastness, i.e. the 7th or 8th degree in the Blue Wool Scale (the scale is eight-degree), which means 100-200 years color durability in museum conditions (with proper exposure to light).
Labels on watercolor pans are made of watercolor paper, hand-painted with original paint. The packaging contains information on lightfastness, granulation, transparency and the degree of pigment penetration into the paper.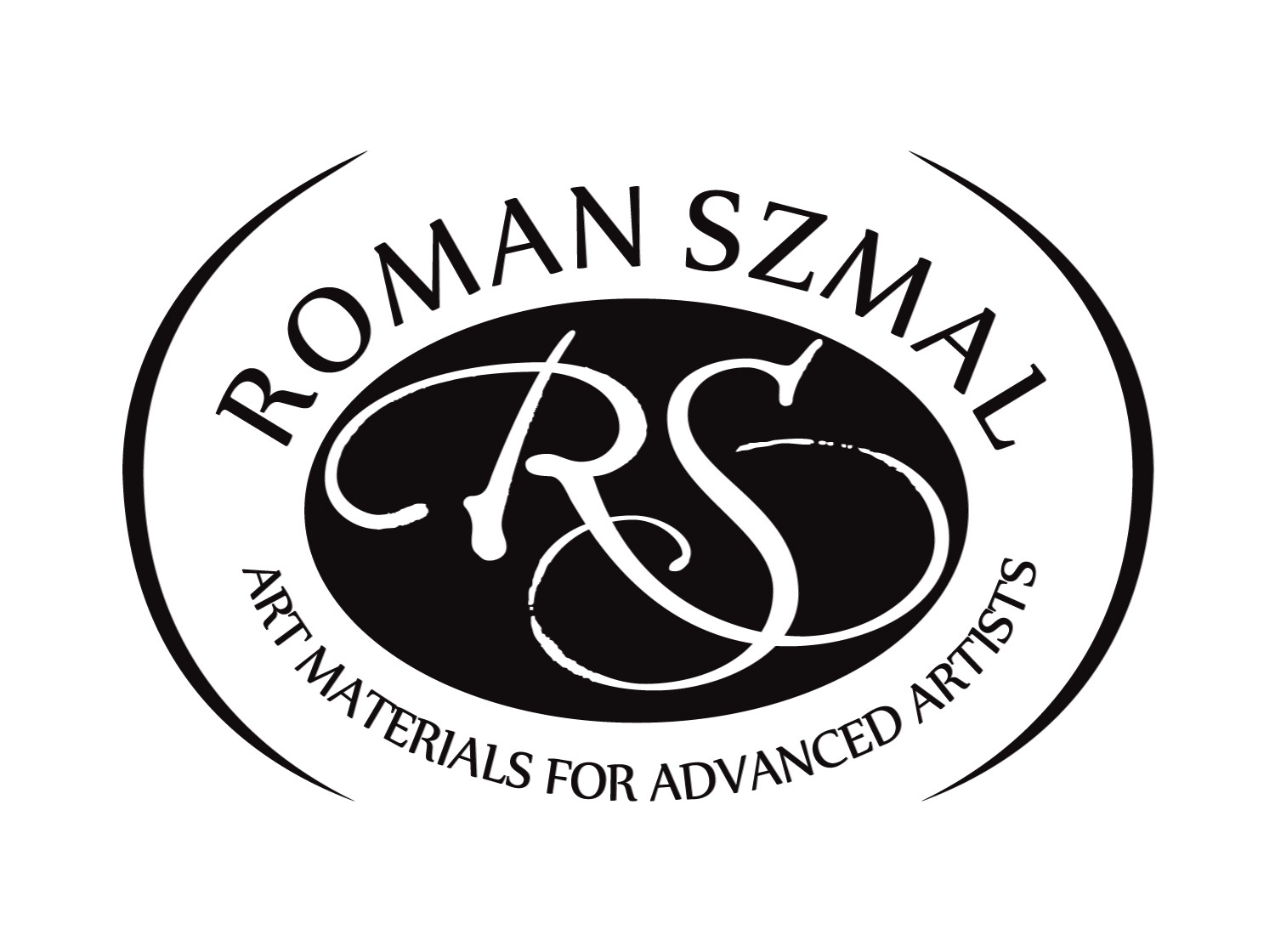 COLOR: 313, Permanent Orange
PIGMENT: PO59
LIGHTFASTNESS RESISTANCE (ACCORDING TO BLUE WOOL SCALE): 8/8
NON-STAINING/STAINING: staining
GRANULATION: no granulating
TRANSPARENCY: transparent
SERIES: 3
PACKAGE: 1 pc.
COMPANY: Roman Szmal
REFERENCE: RS-AQ313